01.12.2012 | Research article | Ausgabe 1/2012 Open Access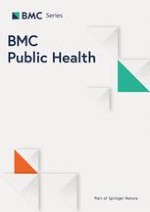 Smoking and health-related quality of life in English general population: implications for economic evaluations
Zeitschrift:
Autoren:

Matthias Vogl, Christina M Wenig, Reiner Leidl, Subhash Pokhrel
Wichtige Hinweise
Electronic supplementary material
The online version of this article (doi:
10.​1186/​1471-2458-12-203
) contains supplementary material, which is available to authorized users.
Competing interests
The authors declare that they have no competing interests.
Authors' contributions
MV and SP designed the study, carried out the data analysis and constructed first draft of the manuscript with subsequent inputs and revisions from CMW and RL. All authors read and approved the final manuscript.
Background
Methods
We used the 2006 round of Health Survey for England (HSE), available for download from the UK Data Archive (
http://​www.​data-archive.​ac.​uk
). The HSE is a series of surveys intended to monitor trends in the nation's health [
15
]. It is a representative national survey of the population living in private households in England in which all adults aged 16 years or older at each household were selected for the interview. Seasonal differences were taken into account by conducting interviews throughout the year. In 2006, all adults were asked questions on cardiovascular diseases, general health, smoking, alcohol consumption and physical activities. The survey included adults (16 and above) and children in the general population. This study focuses on valid adult (16 years and above) observations only (n = 13,241). A multi-stage stratified random sampling was followed to recruit the participants whose data was collected by using a mix of methods (face-to-face interviews, self-completion questionnaires, and clinical measurements). A detailed description of the survey is provided elsewhere [
16
].
HRQoL and smoking status variables
The HSE collected data on health status by using the EQ-5D instrument which describes health in five dimensions (mobility, self-care, usual activity, pain/discomfort, anxiety/depression) and a single value (tariff) for each health state can be obtained using a standardized formula [
15
]. This type of measure is of growing relevance in assessing public health issues [
17
,
18
] and it is one of the most qualified and common instruments used in population based studies on HRQoL [
19
]. The EQ-5D is a widely used instrument in measuring the loss in HRQoL by the presence of diseases caused by smoking such as COPD [
20
], cancer [
21
] and heart diseases [
22
,
23
].
The HSE also collected individuals' response to questions related to smoking status. This allowed us to assign the respondents in our sample to one of the following six smoking groups: never-smokers (one who has never smoked), ex- occasional smoker (one who has only smoked once or twice), ex-regular smoker (one who used to smoke sometimes but never smoke a cigarette now), light smoker (one who smokes under 10 cigarettes a day), moderate smoker (one who smokes between 10-19 cigarettes a day), and heavy smokers (one who smokes 20 or more cigarettes a day). The advantage of this approach in smoking status compared to two (non vs. current) or three levels (never-, ex- and current), as widely used in the literature, is its ability to generate more granularity in the scrutiny of how HRQoL varies by smoking status. Results using a more general classification of the smoking status variable are available from the authors.
Modelling EQ-5D tariff data
As EQ-5D measure has two different types of data (i.e. tariff or single value/mean score and dimensions), it was important to acknowledge the nature of these data and apply appropriate statistical methods. Both types of data are problematic and therefore special considerations were given as described below.
Modelling EQ-5D dimensions data
Due to the nature of dimensions data (ordinal), different statistical approach was needed. In our sample, there was small number of observations in the "severe problems" groups of the EQ-5D dimensions, mainly because this is a population-based data and we would expect a small number of people having severe problems. This did not allow us to apply ordinal regression (or multinomial logistic regression if one rejects the notion of ordinality in such data) as these models did not converge or if they did, did not pass the tests for underlying assumptions of these models, e.g. tests for parallel lines. Therefore, in order to be meaningful and consistent with the literature [
30
,
39
,
40
] the "some problems" and the "severe problems" group in each dimension were combined in order to use binary logistic regression models with two categories: "no problems" and "some/severe problems". In order to be consistent, the set of co-variates was the same as that in the models of tariff data. The
Hosmer-Lemeshow
test was used to determine that the model fit the data [
41
]. For interpretation purposes, the odds ratios yielded by these models are treated as relative risks, provided the event (having problems in any dimension) is rare (< 10% of the total sample size) and estimated odds ratios are close to 1 [
42
].
Assessing implications of missing data
Another complication in statistical analyses was the missing data. There were some missing values on EQ-5D measures (the dependent variable), smoking status (the research variable) and others (the confounders). We did a number of assessments to judge the implications this would have for the findings. A total of 315 individuals out of 13,241 (2.38%) had missing EQ-5D data. In order to establish the extent to which omitting these 315 observations from our analysis would make any difference, we modelled the probability of having a missing EQ-5D tariff on all covariates we are interested in. The underlying assumption was that if this probability had not been determined significantly by any of the covariates we were interested in our main analysis, excluding these missing observations would have been reasonable. A logistic regression was applied, and after all diagnostic tests, it was determined that we could afford losing 315 observations from our main analysis. Thus, imputing the values for missing data and including those in the main analysis was not the preferred option as this would induce another bias in the analysis. The model outputs on the missing data analysis are not reported here but available from the authors upon request.
We also observed a large number of missing values in a few covariates (e.g. equivalised income -18%; BMI - 12% missing) and this needed a close scrutiny. We chose not to impute missing data because it was difficult to assess the nature of missingness and any attempt to impute values was more likely to widen confidence interval around the estimates. Instead, we opted to run the analysis on all 12,926 observations with complete EQ-5D but retained an additional category on each covariate (where a large number of data was missing) to allow for the observations with missing data. For example, we had 6 categories of income variable: 5 quintiles of income plus a category to indicate missing data. All analyses were performed using STATA 11.1 software.
Results
Discussion
Conclusion
Smoking is significantly and negatively associated with HRQoL in English general population. While the observed difference in EQ-5D mean score between individuals who never smoked and those who smoke at least 20 cigarettes a day is about 0.10, the actual difference after controlling for other biological, clinical, lifestyles and socioeconomic conditions is smaller (0.05) but is still significant. The implication is that supporting smokers quit will improve the population QALYs. The varying degree of the association between smoking profile and HRQoL need to be fed into the design of future economic evaluations where the intervention being evaluated affects (e.g. tobacco control) or is affected (e.g. treatment for lung cancer) by individuals' (or patients') smoking status. The net utility loss data due to various smoking profile reported in this paper is rich and can inform robust economic evaluations in the future.
Acknowledgements
We would like to thank the UK Data Archive, University of Essex, Colchester for providing us with the 2006 Health Survey for England (HSE) data. The HSE 2006 was carried out by National Centre for Social Research and University College London, Department of Epidemiology and Public Health and sponsored by the Information Centre for Health and Social Care. Special thanks go to Dr Jo Lord and other members of HERG and to Matthias Hunger from the Institute of Health Economics and Health Care Management, Helmholtz Zentrum München for providing valuable inputs to improve the quality of the paper. All views expressed, and errors if any, are of the authors and not of the institutions that employ them. MV was a visiting student at Health Economics Research Group (HERG) when this research was conducted.
Competing interests
The authors declare that they have no competing interests.
Authors' contributions
MV and SP designed the study, carried out the data analysis and constructed first draft of the manuscript with subsequent inputs and revisions from CMW and RL. All authors read and approved the final manuscript.