01.12.2018 | Research article | Ausgabe 1/2018 Open Access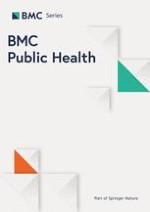 Smoking behavior of males attending the quit tobacco clinics in Bahrain and their knowledge on tobacco smoking health hazards
Zeitschrift:
Autoren:

Randah R. Hamadeh, Jamil Ahmed, Maha Al Kawari, Sharifa Bucheeri
Abstract
Background
One third of Bahraini adult (20–64 years) males and 7.0% of females use some form of tobacco. The corresponding rates for cigarette and waterpipe tobacco smoking (WTS) are 11.0% and 6.0%, respectively. The objective of the study was to determine the knowledge on tobacco smoking and past smoking related behavior of male patients attending the Quit Tobacco Clinics (QTC) in Bahrain.
Methods
A sample of 339 male clinic attendees was taken proportional to the population distribution in the three QTC at Al Hoora Health Center, Hamad Kanoo Health Center, and Bank of Bahrain and Kuwait Health Center. Data collection was performed until the sample size was completed (September 2015 to December 2016). Knowledge on the health effects of cigarette and WTS was examined based on 10 statements on cigarette and similar ones on WTS. Respondents "agreeing" with the statements were considered knowledgeable and those "disagreeing" or responding "don't know", not knowledgeable. All the "agree" responses for cigarette/WTS were summed across the 10 health effects and average health knowledge scores for cigarette/WTS were computed.
Results
Most of the study participants were Bahraini nationals, ever married and educated with at least secondary level. The majority (65.8%) of participants smoked a single type of tobacco product, and the rest, two (28.0%) or three or more (6.2%). Age of starting cigarette and WTS was 16.2 ± 4.0 and 19.3 ± 6.7 years, respectively. The majority (81%) smoked in the presence of other family members and 26.3% in the presence of a child. 76.2% smoked in the presence of others in their cars. 18.9% of the attendees had quit smoking at the time of interview. 81% of the participants knew about the hazards of both cigarette and WTS with a significantly higher (
p
= 0.0001) mean knowledge score for cigarette (93.3 ± 3.0%) than WTS (85.2 ± 2.1%).
Conclusion
The relative lack of knowledge on the hazards of WTS in a sample of Arab country population with an increasing trend of WTS warrants the attention of health policy makers in the country and region.