29.04.2019 | PERINATAL EPIDEMIOLOGY | Ausgabe 7/2019 Open Access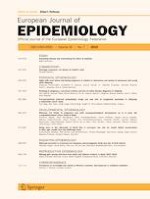 Smoking in pregnancy, cord blood cotinine and risk of celiac disease diagnosis in offspring
Zeitschrift:
Autoren:

Karl Mårild, German Tapia, Øivind Midttun, Per M. Ueland, Maria C. Magnus, Marian Rewers, Lars C. Stene, Ketil Størdal
Wichtige Hinweise
Electronic supplementary material
Publisher's Note
Springer Nature remains neutral with regard to jurisdictional claims in published maps and institutional affiliations.
Abstract
Ecological observations suggest an inverse relationship between smoking in pregnancy and celiac disease (CD) in offspring. While individual-level analyses have been inconsistent, they have mostly lacked statistical power or refined assessments of exposure. To examine the association between pregnancy-related smoking and CD in the offspring, as well as its consistency across data sets, we analyzed: (1) The Norwegian Mother and Child Cohort (MoBa) of 94,019 children, followed from birth (2000–2009) through 2016, with 1035 developing CD; (2) a subsample from MoBa (381 with CD and 529 controls) with biomarkers; and (3) a register-based cohort of 536,861 Norwegian children, followed from birth (2004–2012) through 2014, with 1919 developing CD. Smoking behaviors were obtained from pregnancy questionnaires and antenatal visits, or, in the MoBa-subsample, defined by measurement of cord blood cotinine. CD and potential confounders were identified through nationwide registers and comprehensive parental questionnaires. Sustained smoking during pregnancy, both self-reported and cotinine-determined, was inversely associated with CD in MoBa (multivariable-adjusted [a] OR = 0.61 [95%CI, 0.46–0.82] and aOR = 0.55 [95%CI, 0.31–0.98], respectively); an inverse association was also found with the intensity of smoking. These findings differed from those of our register-based cohort, which revealed no association with sustained smoking during pregnancy (aOR = 0.97 [95%CI, 0.80–1.18]). In MoBa, neither maternal smoking before or after pregnancy, nor maternal or paternal smoking in only early pregnancy predicted CD. In a carefully followed pregnancy cohort, a more-detailed smoking assessment than oft-used register-based data, revealed that sustained smoking during pregnancy, rather than any smoking exposure, predicts decreased likelihood of childhood-diagnosed CD.