01.12.2014 | Original Contribution | Ausgabe 12/2014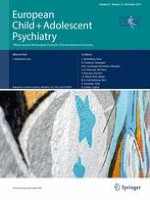 Social withdrawal at 1 year is associated with emotional and behavioural problems at 3 and 5 years: the Eden mother-child cohort study
Zeitschrift:
Autoren:

Antoine Guedeney, Jean-Baptiste Pingault, Antoine Thorr, Beatrice Larroque, The EDEN Mother-Child Cohort Study Group
Wichtige Hinweise
The EDEN Mother-Child Cohort Study Group: Annesi-Maesano, J. Botton, M.A. Charles, P. Dargent-Molina, B. de Lauzon-Guillain, P. Ducimetière, M. de Agostini, B. Foliguet, A. Forhan, X. Fritel, A. Germa, V. Goua, R. Hankard, B. Heude, M. Kaminski, B. Larroque, N. Lelong, J. Lepeule, G. Magnin, L. Marchand, C. Nabet, R. Slama, M.J. Saurel-Cubizolles, M. Schweitzer, O. Thiebaugeorges.
To the memory of Beatrice Larroque, who died accidentally as this paper was written.
Abstract
The objective of the study was to examine how social withdrawal in infants aged 12 months predicted emotional and behavioural problems at ages 3 and 5 years. The sample included 1,586 infants from the French Eden Mother–Child Cohort Study who had a measure of social withdrawal with the Alarm Distress BaBy scale at age 1 year; among these children, emotional and behavioural difficulties were rated by mothers using the Strength and Difficulty Questionnaire (SDQ) at 3 years for 1,257 (79 %) children and at 5 years for 1,123 (72 %) children. Social withdrawal behaviour at age 1 year was significantly associated with the SDQ behavioural disorder scale at 3 years, independently of a host of familial and child temperament confounders. The association with the relational disorder, prosocial and total difficulty scales was close to significance at 3 years after taking into account familial and temperament confounders. Social withdrawal significantly predicted the three aforementioned scales when measured at 5 years. No significant predictivity of the emotional scale and hyperactivity scale was detected at any age. This study made with a large longitudinal sample confirms the negative effects on development of social withdrawal behaviour, shedding light on the unfolding of behavioural disorders and relational difficulties in children; this calls for early detection of sustained social withdrawal behaviour, as it seems to hamper emotional development.