07.10.2016 | Policy Brief | Ausgabe 4/2016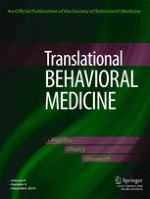 Society of behavioral medicine supports increasing HPV vaccination uptake: an urgent opportunity for cancer prevention
Zeitschrift:
Autoren:

PhD Caryn E. Peterson, MD J. Andrew Dykens, PhD Noel T. Brewer, PhD Joanna Buscemi, MPH, MS Karriem Watson, PhD DeLawnia Comer-Hagans, PhD Zo Ramamonjiarivelo, PhD Marian Fitzgibbon
Wichtige Hinweise
The content of this Policy Brief have not been previously published and manuscript has not been submitted elsewhere.
Implications
Practice
: Healthcare providers and healthcare systems should improve patient education and communication, clinical standards of practice, and information systems to ensure eligible female and male patients initiate and complete the full HPV vaccination series.
Policy
:Legislators and policy makers should ensure adequate resources to achieve the HPV vaccination goals by advocating for improved coverage and reimbursement for providers, optimized school curricula and role in vaccination-related activities, and increased public awareness.
Research
: SBM encourages the initiation of studies employing implementation science methodologies to identify behavioral and systems strategies for addressing both supply-side and demand side barriers to HPV vaccination uptake and series completion.
Abstract
Human papillomavirus (HPV) vaccine coverage remains low in the USA. The Society for Behavioral Medicine (SBM) supports the goals outlined by Healthy People 2020, the President's Cancer Panel, and the National Vaccine Advisory Committee to increase vaccination coverage among both males and females. SBM makes the following recommendations in support of efforts to reduce structural and other barriers to HPV vaccination services in order to increase rates of series completion. We encourage legislators and other policymakers to improve administration authority, insurance coverage, and reimbursement rates to healthcare providers who make the HPV vaccine available to adolescents; provide instrumental support to fund the development of school curricula on HPV vaccination; and increase public awareness that HPV vaccination can prevent cancer. We urge healthcare providers and healthcare systems to increase the strength, quality, and consistency of HPV vaccination recommendations for all eligible patients; to treat HPV vaccination as a routine preventive service; employ culturally appropriate communication strategies in clinical settings to educate eligible patients, parents, and guardians about the importance, effectiveness, and safety of HPV vaccination; and to strengthen and better coordinate the use of electronic medical records and immunization information systems.