01.12.2017 | Research article | Ausgabe 1/2017 Open Access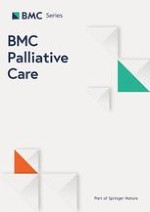 Socio-cultural contexts of end- of- life conversations and decisions: bereaved family cancer caregivers' retrospective co-constructions
Zeitschrift:
Autoren:

Jennifer Nyawira Githaiga, Leslie Swartz
Abstract
Background
End-of-life communication becomes increasingly difficult in terminal cancer, which inevitably entails conversations around dying and death. In resource-limited areas, the context of end-of-life communication is usually home-based palliative care comprising mostly women in the family who play critical roles as informal caregivers. This article examined the content and contexts of family end-of-life conversations and decisions based on the retrospective accounts of a sample of bereaved women family cancer caregivers in Nairobi, Kenya.
Method
An interpretative phenomenological analysis approach was utilized to explore pertinent end-of-life communication themes. Four mini focus group interviews with a total of 13 participants [
n
= 5;
n
= 3;
n
= 3;
n
= 2] were conducted.
Results
Two end-of-life themes, advance directives as preparedness for death, and initiating death talk were examined. Findings (a) illustrate the role of family dynamics in influencing the nature of end-of-life conversations and decisions (b) demonstrate the transitional nature of family caregiver roles, and (c) underscore the paradox of the critical role played by family members in palliative care versus their ill preparedness in dealing with end-of-life issues.
Conclusions
Findings are relevant in informing palliative psychosocial interventions and specifically the concerns and decisions of cancer patients and their families. This prompts further engagement with the question of how to equip family caregivers in resource-limited contexts for end of life care. Methodologically, these results demonstrate the possibility of simultaneous elucidation of individual experiences, interactive co-constructions and the socio-cultural contexts of experiences and meaning making processes in IPA research.