01.04.2015 | Review Article | Ausgabe 2/2015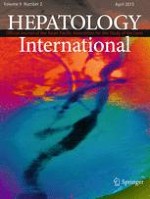 Sofosbuvir for treatment of chronic hepatitis C
Zeitschrift:
Autoren:

Sarah Kattakuzhy, Rachel Levy, Shyam Kottilil
Wichtige Hinweise
Disclaimer
: The views or policies of the Department of Health and Human Services are not necessarily reflected in this content. The US Government does not endorse any trade names, commercial products, or organizations mentioned.
Abstract
Chronic hepatitis C is a leading cause of liver-related morbidity and mortality worldwide. If untreated, chronic hepatitis C can progress to advanced liver fibrosis, cirrhosis, liver failure, hepatocellular carcinoma and death. Until recently, treatment of hepatitis C predominantly constituted an immunomodulatory agent, peg-interferon-alfa and ribavirin. In 2011, the first class of directly acting antiviral agents, HCV NS3/4A serine protease inhibitors, was added to peg-interferon-alfa and ribavirin with increased efficacy. In the past year, an NS5B inhibitor, sofosbuvir, has emerged as a potent agent with pangenotypic efficacy, resulting in the first interferon-free regimen for the treatment of hepatitis C. This review summarizes the data that resulted in regulatory approval of sofosbuvir and highlights the future of hepatitis C therapy with sofosbuvir as the backbone of a highly effective antiviral regimen.