01.03.2020 | Special Issue: Soft Tissue | Ausgabe 1/2020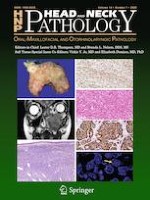 Soft Tissue Special Issue: Chondroid Neoplasms of the Skull
Zeitschrift:
Autoren:

A. N. Flaman, J. K. Wasserman, D. H. Gravel, B. M. Purgina
Wichtige Hinweise
Publisher's Note
Springer Nature remains neutral with regard to jurisdictional claims in published maps and institutional affiliations.
Abstract
Clinically, radiologically, and pathologically, chondroid neoplasms of the skull can be diagnostically challenging due to overlapping features in each of these domains. Compounding the problem for the pathologist, there is also significant morphologic, immunophenotypic, and molecular genetic overlap between benign and malignant cartilaginous lesions, and the majority of these lesions are encountered quite rarely in routine surgical pathology practice. Each of these factors contribute to the diagnostic difficulty posed by these lesions, highlighting the importance of radiologic-pathologic correlation in the diagnosis. This review is intended to provide an update for surgical pathologists on some of the most commonly encountered chondroid neoplasms in the skull, and includes the following lesions: chondromyxoid fibroma, synovial chondromatosis, chondrosarcoma and variants, and chordoma and variants. For each of these lesions, the differential diagnosis and useful ancillary tests will be discussed in the context of a broad range of additional primary and secondary lesions.