16.01.2020 | Special Issue: Soft Tissue | Ausgabe 1/2020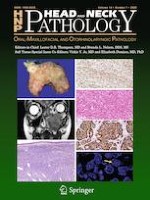 Soft Tissue Special Issue: Fibroblastic and Myofibroblastic Neoplasms of the Head and Neck
Zeitschrift:
Autoren:

Esther Baranov, Jason L. Hornick
Wichtige Hinweise
Publisher's Note
Springer Nature remains neutral with regard to jurisdictional claims in published maps and institutional affiliations.
Abstract
Fibroblastic and myofibroblastic neoplasms of the head and neck encompass a group of rare tumor types with often overlapping clinicopathologic features that range in biologic potential from benign to overtly malignant. Even neoplasms with no metastatic potential may provide significant therapeutic challenges in this region due to the unique anatomy of the head and neck. This review will cover the following entities, highlighting important clinical aspects of each neoplasm and then focusing on their characteristic histomorphology, immunophenotype, and molecular alterations: nodular and cranial fasciitis, fibrous hamartoma of infancy, nasopharyngeal angiofibroma, nuchal-type and Gardner fibromas, desmoid fibromatosis, dermatofibrosarcoma protuberans and giant cell fibroblastoma, solitary fibrous tumor, inflammatory myofibroblastic tumor, low-grade myofibroblastic sarcoma, infantile fibrosarcoma, low-grade fibromyxoid sarcoma, and sclerosing epithelioid fibrosarcoma. While some of these neoplasms characteristically arise in the head and neck, others are rarely described in this anatomic region and may therefore be particularly difficult to recognize. Distinction between these entities, however, is crucial, particularly as the molecular pathogenetic basis for these neoplasms are being rapidly elucidated, in some instances allowing for targeted therapeutic approaches.