16.01.2020 | Special Issue: Soft Tissue | Ausgabe 1/2020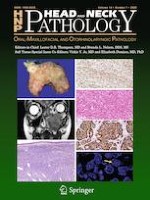 Soft Tissue Special Issue: Giant Cell-Rich Lesions of the Head and Neck Region
Zeitschrift:
Autoren:

Jen-Chieh Lee, Hsuan-Ying Huang
Wichtige Hinweise
Publisher's Note
Springer Nature remains neutral with regard to jurisdictional claims in published maps and institutional affiliations.
Abstract
Giant cell-rich lesions represent a heterogeneous group of tumors and non-neoplastic lesions, usually arising in bone, which harbor varying number of reactive osteoclastic-type multinucleate giant cells as a common feature. Among these entities, some are confined to the head and neck region (e.g., central giant cell granuloma and mimicking lesions, i.e., peripheral giant cell granuloma and cherubism) or show a relative predilection for this region (e.g., aneurysmal bone cyst and brown tumor of hyperparathyroidism), while others are rare but associated with distinct underlying disease (e.g., giant cell tumor of bone) or histology (e.g., tenosynovial giant cell tumor of the temporomandibular joint and phosphaturic mesenchymal tumor of the jaws) when occurring in the head and neck. Collectively, these lesions pose great challenge in the pathologic diagnosis, which often requires combinatory assessment from the clinical, histopathologic, and/or molecular aspects. This review provides a summary of pertinent clinical and pathologic features and an update of recent molecular and genetic findings of these entities. The considerations in differential diagnosis as well as the effects of the emerging therapeutic RANKL-antagonizing antibody denosumab will also be addressed.