01.12.2019 | Research article | Ausgabe 1/2019 Open Access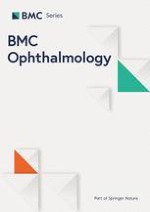 Solar maculopathy: prognosis over one year follow up
Zeitschrift:
Autoren:

Marwa Mahmoud Abdellah, Engy Mohammed Mostafa, Mohamed Abdelatif Anber, Islam Saad El Saman, Mohammed Ezz Eldawla
Wichtige Hinweise
Publisher's Note
Springer Nature remains neutral with regard to jurisdictional claims in published maps and institutional affiliations.
Abstract
Background
To document the visual acuity, spectral domain optical coherence tomography (SD-OCT) findings and prognosis in10 eyes of 6 patients with foveal damage from solar retinopathy in 1 year.
Methods
This was a prospective, observational case series of patients presented by solar maculopathy at Ophthalmology department, Sohag University. All patients underwent visual acuity (VA) testing, refraction, dilated fundus examination fluorescein angiography (FA) and SD-OCT (spectral Domain ocular coherence Tomography) imaging and follow up for 1 year.
Results
The mean age was 16.5 years (range 9–27 years, both eyes are affected in 4 patients. The mean spherical equivalent (SE) was – 0.25 ± 0.50 D.
The visual acuity of the affected eyes ranged from 0.4 to 0.9 on presentation. At presentation Significant foveal pathology was identified on SD-OCT in 10 eyes, All eyes showed disruption of the photoreceptor ellipsoid zone and the interdigitation zone on SD-OCT, Follow up of the cases continued for 1 year.100% of cases showed improvement in VA: 20% eyes regained 1, 50% eyes with VA of 0.9; two eyes 20% 0.8 and one eyes (10%) with 0.4. The improvement began after 1 week and reached its maximum and became stationary after the 6th month of follow up, the outer retinal hole persist in OCT in 80% of cases.
Conclusion
Solar maculopathy has a good prognosis yet shows no improvement after 6 months. Young age might pose as a risk factor.