01.12.2011 | Case report | Ausgabe 1/2011 Open Access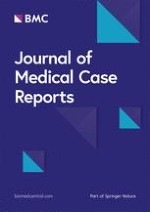 Solitary splenic metastasis from ovarian carcinosarcoma: a case report
Zeitschrift:
Autoren:

Alex B Olsen, Sabine Pargman, Thomas Gillespie
Wichtige Hinweise
Electronic supplementary material
The online version of this article (doi:
10.​1186/​1752-1947-5-56
) contains supplementary material, which is available to authorized users.
Authors' contributions
AO was involved in drafting the manuscript and acquisition of data. He analyzed and interpreted the patient data regarding the disease process. TG was the attending surgeon who made substantial contributions to the analysis and interpretation of data. He revised the manuscript critically for important intellectual content. SP performed the histological examination of the spleen and was a contributor in writing the manuscript. All authors read and approved the final manuscript.
Competing interests
The authors declare that they have no competing interests.
Abstract
Introduction
Metastatic tumors to the spleen are rare but are usually found in conjunction with metastasis to other organs. The most common sources of splenic metastasis are breast, lung and colorectal cancers as well as melanoma and ovarian carcinoma. A solitary carcinosarcoma metastasis to the spleen of any origin is very rare. To the best of our knowledge, there are fewer than 30 reported cases of ovarian primary tumors with solitary metastasis to the spleen, and only three solitary primary carcinosarcomas to the spleen have been reported, of which one is female. We present what is, to the best of our knowledge, the first case of a solitary metastatic carcinosarcoma to the spleen arising from a primary ovarian carcinsarcoma.
Case presentation
A 72-year-old Hispanic woman status post-total abdominal hysterectomy for ovarian carcinosarcoma presented with complaints of early satiety and abdominal pain for the past two months with a 30-lb unintentional weight loss. An initial computed tomographic scan of her abdomen and pelvis revealed a 30 cm × 27 cm splenic mass with displacement of the left kidney, stomach and liver. The patient was found to have a solitary metastatic carcinosarcoma of the spleen with biphasic epithelial (carcinomatous) and mesenchymal (sarcomatous) elements consistent with carcinosarcoma.
Conclusion
Carcinosarcoma of the spleen is a rare tumor. Carcinosarcomas are a biphasic neoplasm comprising malignant epithelial and mesenchymal components arising from a stem cell capable of differentiation. They can arise anywhere in the female genital tract, most commonly from the endometrium. Even though it is rare, carcinosarcomas can metastasize to the spleen. This unique case of a solitary splenic metastasis from ovarian carcinosarcoma has particular interest in medicine, especially for the specialties of surgical oncology, pathology and hematology/oncology.