01.12.2017 | Research article | Ausgabe 1/2017 Open Access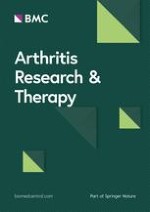 Soluble CD40L is associated with increased oxidative burst and neutrophil extracellular trap release in Behçet's disease
Zeitschrift:
Autoren:

Sandro Félix Perazzio, Paulo Vitor Soeiro-Pereira, Viviane Cardoso dos Santos, Marlon Vilela de Brito, Bruno Salu, Maria Luiza Vilela Oliva, Anne Margherite Stevens, Alexandre Wagner Silva de Souza, Hans D. Ochs, Troy R. Torgerson, Antonio Condino-Neto, Luis Eduardo Coelho Andrade
Wichtige Hinweise
Electronic supplementary material
The online version of this article (doi:
10.​1186/​s13075-017-1443-5
) contains supplementary material, which is available to authorized users.
Abstract
Background
Studies have suggested that soluble factors in plasma from patients with active (aBD) and inactive (iBD) Behçet's disease (BD) stimulate neutrophil function. Soluble CD40 ligand (sCD40L) is an important mediator of inflammation in BD. Its expression and effect on neutrophil oxidative burst and neutrophil extracellular trap (NET) release have not been characterized. In this study, we sought to investigate the role of plasma and the CD40L pathway on NET release and the oxidative burst profile in patients with aBD and iBD.
Methods
Neutrophils and peripheral blood mononuclear cells (PBMCs) were obtained from patients with aBD (
n
 = 30), patients with iBD (
n
 = 31), and healthy control subjects (HCs;
n
 = 30). sCD40L plasma concentration was determined in individual samples. A pool of plasma for each group was created. In some experiments, plasma pools were treated with recombinant CD40 (rhCD40-muIg) for sCD40L blockade. NET release and H
2
O
2
/O
2
−
production were determined after stimulation with phorbol 12-myristate 13-acetate, sCD40L, or plasma pool. Flow cytometric analysis was performed to evaluate the expression of (1) CD40, Mac-1, and phosphorylated NF-κB p65 on neutrophils and monocytes and (2) CD40L on activated T cells and platelets. CD40L gene expression in PBMCs was determined by qRT-PCR.
Results
sCD40L plasma levels were significantly higher in patients with iBD (median 17,234, range 2346–19,279 pg/ml) and patients with aBD (median 18,289, range 413–19,883 pg/ml) than in HCs (median 47.5, range 33.7–26.7 pg/ml;
p
 < 0.001). NET release was constitutively increased in BD compared with HC. NET release and H
2
O
2
/O
2
−
were higher after stimulation with sCD40L or BD plasma and decreased after sCD40L blockade. Mac-1 expression was constitutively increased in neutrophils of patients with aBD (88.7 ± 13.2% of cells) and patients with iBD (89.2 ± 20.1% of cells) compared with HC (27.1 ± 18.8% of cells;
p
 < 0.01). CD40 expression on phagocytes and CD40L expression on platelets were similar in the three groups. PBMCs as well as nonactivated and activated CD4
+
T cells from patients with BD showed higher CD40L expression.
Conclusions
Plasma from patients with aBD exerts a stimulus on NET release and oxidative burst, probably induced by sCD40L.