01.09.2009 | Original Article | Ausgabe 9/2009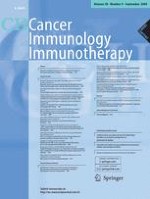 Soluble HLA/peptide monomers cross-linked with co-stimulatory antibodies onto a streptavidin core molecule efficiently stimulate antigen-specific T cell responses
Zeitschrift:
Autoren:

Sylvie Rusakiewicz, Geraldine Aubert, Richard E. Clark, Alejandro J. Madrigal, Anthony I. Dodi, Paul J. Travers
Wichtige Hinweise
A. I. Dodi and P. J. Travers contributed equally to this work.
This paper is an original contribution from the meeting which took place on 28 and 29 May 2008 in Nottingham, UK, celebrating the contribution of Prof. I. A. "Tony" Dodi (†29.1.2008) to the EU project "Network for the identification and validation of antigens and biomarkers in cancer and their application in clinical tumour immunology (ENACT)".
Abstract
Soluble MHC–peptide complexes, commonly referred to as tetramers, have been shown to induce strong cross-linking of TCR and CD8, resulting in a vigorous activation followed by a rapid non-apoptotic CD8+ T cell death. This has limited tetramer use for antigen-specific T cells isolation and cloning, as sorted tetramer positive cells were shown to possess compromised functional integrity. Here we show that the cross-linking of a secondary co-stimulatory signal into oligomeric MHC:peptide complexes prevents such cell death, and in contrast strongly stimulates antigen-specific T cell responses. Such soluble antigen-presenting complexes (sAPCs) containing MHC:peptide complexes linked to either anti-CD27 or anti-CD28 antibodies were capable of priming and expanding HLA-A*0201 restricted CMV specific T cells and also of generating functional HLA-A*0301 restricted BCR/ABL-specific T cell responses. These sAPCs constitute an encouraging alternative method for generating antigen-specific T cells that could be applied to a variety of antigens.