30.12.2016 | Original Article | Ausgabe 8/2017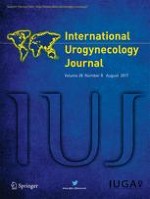 Solvent-dehydrated dermal allograft (AXIS™) augmented cystocele repair: longitudinal results
Zeitschrift:
Autoren:

Saad Juma, Omer A. Raheem
Abstract
Introduction and hypothesis
Surgical repair options for pelvic organ prolapse (POP) include native tissue, allograft, xenograft, and synthetic grafts. Solvent-dehydrated dermal allograft (SDDG) has an improved safety profile. We evaluated the long-term safety and efficacy of SDDG use for cystocele repair.
Methods
A total of 184 patients completed a minimum follow-up of 12 months. Incontinence Impact Questionnaire (IIQ), Urogenital Distress Inventory (UDI), and Visual Analogue Scale (VAS) were used pre and post operatively. Recurrent cystocele grade ≥ II and/or repeat cystocele repair were considered objective failure.
Results
Preoperatively, 17 patients (10%) had grade IV cystocele, 87 (47%) grade III, 70 (38%) grade II, and 10 (5%) grade I. All patients underwent SDDG cystocele repair with/without vaginal sling and/or POP repair and/or hysterectomy. Mean hospital stay was 0.58 days (range 0–4), mean estimated blood loss (EBL) was 111 mL, and mean length of Foley catheterization was 1.85 days (range 0–28). Postoperatively, 113 patients (64%) had no recurrent cystocele, 34 (19%) had grade I, 19 (11%) grade II, and 10 (6%) grade III cystocele. None had grade IV cystocele. Nineteen patients (10.3%) underwent repeat cystocele repair. Thirty-eight patients (21.6%) had postoperative recurrence (recurrent cystocele grade ≥ II and/or repeat cystocele repair). Dermal allograft related adverse events included 1 (0.5%) allograft vaginal exposure, dyspareunia 1 (0.5%), and transient hydronephrosis in 1 (0.5%). There were no vascular, vesical, visceral or neurological injuries.
Conclusions
These results indicate that SDDG augmented cystocele repair is a safe procedure, with low morbidity, and it's success is comparable to other techniques.