01.12.2018 | Research article | Ausgabe 1/2018 Open Access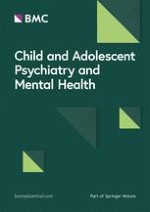 Somatic symptom and related disorders in children and adolescents: evaluation of a naturalistic inpatient multidisciplinary treatment
Zeitschrift:
Autoren:

Pola Heimann, Beate Herpertz-Dahlmann, Jonas Buning, Norbert Wagner, Claudia Stollbrink-Peschgens, Astrid Dempfle, Georg G. von Polier
Abbreviations
SSD
somatic symptom and related disorders
DSM-5
fifth edition of the Diagnostic and Statistical Manual of Mental Disorders
ICD-10
tenth edition International Statistical Classification of Diseases and Related Health Problems
ICD-11
eleventh edition International Statistical Classification of Diseases and Related Health Problems
KiGGS
German Health Interview and Examination Survey for Children and Adolescents
PPCI-R
Revised Pediatric Pain Coping Inventory
GBB-SB
Giessen physical complaints inventory for children and adolescents
SCAS
Spence Children's Anxiety Scale
DIKJ
Children's Depression Inventory
SSRI
selective serotonin reuptake inhibitor
SS
seeking for social support
POS
positive self-instruction
Background
Thus, our study focused on the evaluation of inpatient multidisciplinary treatment of SSD covering all disorders enumerated in DSM-5, with a particular evaluation of distress and impairment (i.e., school absence). In detail, the aims of our study were twofold: first, we aimed to evaluate the effectiveness of an inpatient interdisciplinary treatment for children and adolescents with somatic symptom disorders. The multidisciplinary team consisted of child & adolescent psychiatrists, pediatricians, clinical psychologists, physiotherapists, occupational therapists and nurses. The outcome parameters were a reduction in somatic complaints and psychiatric comorbidity (anxiety, depression) at discharge and upon a 6-month follow-up after treatment completion. At this assessment, school attendance was also evaluated. Second, we aimed to assess the impact of coping strategies and comorbid psychiatric symptoms (depression, anxiety) on changes in functional impairment (i.e., school attendance) and the level of discomfort.
Methods
Patients aged 8–18 years with somatoform disorders, dissociative disorders or chronic somatic disorders with psychiatric comorbidity who were referred to our somatic symptom unit were eligible for inclusion. The requirements for admission included a complete pediatric diagnostic evaluation and an appointment with a member of the treatment team to discuss the indication of inpatient treatment and treatment goals. The exclusion criteria included insufficient knowledge of the German language, duration of treatment of less than 14 days and severe psychiatric comorbidity, such as acute suicidal ideation or psychosis. Regular treatment attendance at individual and group therapies was a precondition for admission and continued participation in the treatment program. Patient assessments were conducted upon admission (T1), discharge (T2) and 6 months following treatment (T3). The local ethics committee approved the study in accordance with the Declaration of Helsinki.
Sample
Seventy-three individuals were screened over a 16-month period, and 60 patients were eligible for inclusion. Eight patients cancelled treatment prematurely, and five patients had to be transferred to the child and adolescent psychiatric unit due to severe psychiatric disorders. Forty-five (75%) of all included patients participated in the follow-up assessment. Study completers did not differ from non-completers in terms of age, sex, distribution of disorders or missed school days upon admission (T1). The details are presented in Table
1
.
Table 1
Demographic and clinical data
Mean [SD]

Sample size (n)

60

Female (%)

56.7

Age

14.43 [2.0]

Duration of treatment (days)

48.15 [19.7]

A primary diagnosis

Somatoform disorder (F45.x)

47 [78.3]

Dissociative (conversion) disorder (F44.x)

4 [6.7]

Other pediatric diagnosis a

9 [15]

B comorbidities

Depressive episode (F32.x)

27 [45]

Phobic/other anxiety disorder (F40.x/F41.x)

24 [40]

Attention deficit hyperactivity disorder (F90.x)

22 [36.7]

Other F b—diagnoses

23 [38.3]
Measures
Statistical analyses
IBM SPSS version 23 was used to perform all statistical analyses (IBM Corp., Armonk, N.Y.). Sample characteristics were summarized using descriptive statistics. Descriptive statistics were employed for the categorical variables and also for the means and standard deviations (SDs) for the continuous variables. Three time-points were assessed: admission, discharge and the follow-up (6 months after discharge). A test of the distribution of normality revealed that the values of the DIKJ, SCAS and the number of missing school days were not normally distributed. Wilcoxon signed-rank tests (DIKJ, SCAS, and missing school days) and paired
T
-tests (GBB; PPCI) were conducted to assess changes from pre- to posttreatment (T1–T2) and from pretreatment to 6 months after discharge (T1–T3). Due to the use of multiple tests of the same dataset, we adjusted the alpha level using the Bonferroni–Holm procedure [
36
], which specified a
p
value of 0.0033 for a test to be considered significant. The resulting output of the group comparisons was used to calculate the effect sizes (Cohen's d). Additionally, exploratory post hoc analyses were conducted to investigate the influence of (a) age and sex, or (b) baseline levels of depression or discomfort on the changes in coping strategies, levels of discomfort, depression and anxiety. A repeated measures model with sex as between subject factor and time (T1, T3) as within subject factor was used for (a), while linear regression models were used for (b). Finally, using Pearson correlations, we investigated whether changes in school attendance (T1 to T3) were related to changes (T1 to T3) in pain coping (PPCI), discomfort or comorbidity.
Results
Sample
The demographic and clinical characteristics of the study sample are presented in Table
1
. The ages ranged from 9 to 17 years, with a mean age of 14 years (
SD
 = 2.0). Average school absence during the 4 weeks prior to admission was 11.7 days (
SD
 = 7.9), and the mean duration of the inpatient treatment was 48 days (
SD
 = 19.7). Patients who received medication had more severe symptoms, e.g., days of school absence than those without medication (p < 0.05).
Treatment effects at discharge
Measures at admission (T1), discharge (T2) and 6 months following treatment (T3) are given in Table
2
. Compared with pretreatment, the effects of the treatment at discharge were noted regarding reduced levels of comorbidity with small to medium effect sizes (anxiety:
d 
= 0.4; depression:
d 
= 0.6). The level of discomfort was reduced with a large effect size (
d 
= 0.8).
Table 2
Discomfort, pain coping and comorbidity
| Measures | Admission | Discharge | Six months after discharge |
| --- | --- | --- | --- |
| DIKJ a | 55.67 [10.08] | 49.22 [11.42]* | 45.05 [13.73]** |
| SCAS b | 26.44 [15.07] | 20.08 [17.47]* | 15.38 [15.47]** |
| GBB-SB b | 59.15 [11.03] | 48.96 [14.38]** | 48.38 [13.63]** |
| PPCI b | 22.86 [8.67] | 18.68 [7.14]* | 14.21 [7.87]** |
| PAS c | 10.20 [4.42] | 6.42 [3.78]** | 6.11 [3.80]** |
| SS c | 4.76 [3.97] | 3.33 [2.61]* | 1.86 [2.40]** |
| POS c | 8.47 [3.29] | 9.16 [3.70] | 6.31 [4.19] |
| School absence d [in days] | 11.92 [7.05] | | 2.41 [4.28]** |
| None | 5 (10.2%) | | 29 (64.4%) |
| Moderate | 6 (12.2%) | | 10 (22.2%) |
| High | 38 (77.6%) | | 6 (13.3%) |
Treatment effects 6 months post treatment
Compared with the pretreatment status (admission), treatment effects remained stable 6 months post treatment indicated by significantly reduced levels of discomfort, depression and anxiety and improved coping strategies (Table
2
). Moreover, school attendance improved with large effect sizes (
d
 = 1.6; Table
2
, Fig.
1
). Notably, 20 (52%) of the subjects in the high school absence group (> 5 days/4 weeks) were rated as having no school absences (0–1 days/4 weeks) at 6 months posttreatment.
×
When treatment effects 6 months post treatment were compared with the status upon discharge, within subjects' comparisons indicate no changes in depression (
t
 = 1.16;
p
 = 0.26), anxiety (
t
 = 0.96;
p
 = 0.34) and levels of discomfort (
t
 = − 0.51;
p
 = 0.61) and further improved coping strategies (PPCI;
t
 = 3.46;
p
 = 0.001), mainly attributable to reductions in self instructions (POS;
t
 = 3.47;
p
 = 0.001).
Exploratory post hoc analyses regarding correlates of treatment outcome (i.e., level of discomfort 6 months posttreatment and school attendance), age and gender indicated the following:
a.
Age was not associated with treatment outcome. Boys and girls showed comparable levels of discomfort at baseline (GBB raw sum score; boys mean 61.1, sd 11.3; girls mean 58.5, sd 11.1), however, boys showed larger reductions in levels of discomfort at T3 (boys mean 47.8, sd 13.5; girls: mean 49.6, sd 15.3). This was indicated by a significant repeated measures model with GBB T1/T3 as dependent variable and gender as between subjects factor: GBB was reduced over time (
p 
< 0.001), and significantly different between sexes (
p 
= 0.02 for the time by sex interaction, overall sex effect
p 
= 0.7).
b.
In a linear regression model, lower levels of discomfort 6 months posttreatment (T3, self-assessment) were predicted by lower depression scores upon admission (T1;
β 
= 0.36;
t 
= 2.3;
p 
= 0.03) but not levels of discomfort upon admission (
p 
= 0.14). Since depression scores and levels of discomfort were correlated at T1 (
r 
= 0.28;
p 
= 0.04), a second model only including depression scores at T1 was calculated and results were largely similar (
β 
= 0.41;
t 
= 2.7;
p 
= 0.01).
c.
Improved school attendance (i.e., delta school absence: T1–T3) was associated with improved pain coping (T1–T3;
r 
= 0.38,
p
 = 0.037) but not with decreased levels of discomfort or with depressive or anxious symptoms scores.
Discussion
The key finding of this study was that, in children and adolescents with SSD, an inpatient interdisciplinary treatment program is highly effective in reducing somatic complaints, increasing school attendance, developing adaptive coping strategies and improving psychiatric comorbidity (depression, anxiety). Furthermore, our findings highlighted the importance of developing adaptive coping strategies that are associated with improved school attendance.
The strengths of this study include the use of the standardized assessment of treatment effects and the inclusion of a 6-month follow up. The limitations apply to the study design, as it evaluates a "natural" clinical treatment program lacking randomization, a control group, a standardized therapeutic manual and structured measures of treatment adherence. Future studies with larger sample sizes are needed to assess which specific treatment strategies add to the effectiveness of an inpatient interdisciplinary treatment and also to investigate the role of coping strategies in more detail.
Conclusion
Inpatient interdisciplinary treatment combining pediatric and psychiatric knowledge and skills is highly effective for SSD in children and adolescents regarding the reduction in somatic complaints, emotional distress, and school absence and the improvement of coping strategies. Untreated somatic symptom and related disorders often result in long-term impairment in affected children and adolescents, including poor academic achievements, an increased risk for later medical treatment and vocational impairments. Thus, it is mandatory to overcome potential barriers to treatment in order to take advantage of multidisciplinary treatment approaches. In this regard, the education of health professionals, teachers and parents regarding recognition and treatment opportunities of SSD is necessary to avoid unnecessary and costly physical examinations, to shorten the duration of illness and to facilitate access to professional treatment.
Authors' contributions
BH and JB conceptualised the study. JB supervised data collection, PH, AD and GGP analysed and interpreted the data and drafted the manuscript. BH, NW, and CS revised the manuscript critically. All authors read and approved the final manuscript.
Competing interests
The authors declare that they have no competing interests.
Availability of data and materials
The datasets used and/or analysed during the current study are available from the corresponding author on reasonable request.
Consent for publication
Not applicable.
Ethics approval and consent to participate
The local ethics committee (Aachen, Germany) approved the study in accordance with the Declaration of Helsinki. Active informed consent was collected by parental/primary caregivers as participants were younger than age 18.
Funding
All costs for conducting the research were covered by in-house funds.
Publisher's Note
Springer Nature remains neutral with regard to jurisdictional claims in published maps and institutional affiliations.
Open Access
This article is distributed under the terms of the Creative Commons Attribution 4.0 International License (
http://​creativecommons.​org/​licenses/​by/​4.​0/​
), which permits unrestricted use, distribution, and reproduction in any medium, provided you give appropriate credit to the original author(s) and the source, provide a link to the Creative Commons license, and indicate if changes were made. The Creative Commons Public Domain Dedication waiver (
http://​creativecommons.​org/​publicdomain/​zero/​1.​0/​
) applies to the data made available in this article, unless otherwise stated.