01.12.2017 | Research article | Ausgabe 1/2017 Open Access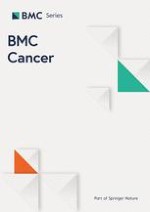 Somatostatin and CXCR4 chemokine receptor expression in hepatocellular and cholangiocellular carcinomas: tumor capillaries as promising targets
Zeitschrift:
Autoren:

Daniel Kaemmerer, Robin Schindler, Franziska Mußbach, Uta Dahmen, Annelore Altendorf-Hofmann, Olaf Dirsch, Jörg Sänger, Stefan Schulz, Amelie Lupp
Wichtige Hinweise
Electronic supplementary material
Abstract
Background
Hepatocellular (HCC) and cholangiocellular carcinomas (CCC) display an exceptionally poor prognosis. Especially for advanced disease no efficient standard therapy is currently available. Recently, somatostatin analogs have been evaluated for the treatment of HCC, however, with contradictory results. Besides, for both malignancies the chemokine receptor CXCR4 has been discussed as a possible new target structure.
Methods
Expression of somatostatin receptor (SSTR) subtypes 1, 2A, 3, 4, and 5, and of CXCR4 was evaluated in a total of 71 HCCs and 27 CCCs by immunohistochemistry using well-characterized novel monoclonal antibodies.
Results
In HCC tumor cells, frequency and intensity of expression of SSTRs and CXCR4 were only low. CXCR4 was present in about 40% of the HCCs, although at a low intensity. SSTR5, SSTR2, and SSTR3 were detected in about 15%, 8%, and 5% of the HCC tumors, respectively. SSTR and CXCR4 expression was much higher in CCC than in HCC. CXCR4 and SSTR1 were present in 60% and 67% of the CCC samples, respectively, followed by SSTR2 and SSTR5, which were detected in 30% and 11% of the tumors, respectively. Most notably, CXCR4 was intensely expressed on the tumor capillaries in about 50% of the HCCs and CCCs. CXCR4 expression on tumor vessels was associated with poor patient outcomes.
Conclusions
CCC, but not HCC, may be suitable for SSTR-based treatments. Because of the predominant expression of SSTR1, pan-somatostatin analogs should be preferred. In both HCC and CCC, indirect targeting of tumors via the CXCR4-positive tumor capillaries may represent a promising additional therapeutic strategy.