14.04.2017 | Original Article | Ausgabe 4/2017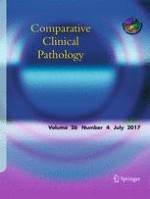 Some haematological parameters of albino mice experimentally inoculated with
Trypanosoma brucei brucei

after administration of Halofantrine hydrochloride, chloroquine and diaminazine aceturate
Zeitschrift:
Autoren:

Ijeoma Agbo, Chukwuebuka Iniobong Ikenna Ugochukwu, Emmanuel Ikenna Ugochukwu, Denchris Nnabuike Onah, Kingsley Tochukwu Ughamba
Abstract
Trypanosomosis has been a menace. When animals become infected with trypanosomosis, their physiology is altered leading to haematological aberrations. The comparative effects of Halofantrine chloride (Halfan), chloroquine and diaminazine aceturate (DA) were experimentally investigated in the treatment of
Trypanosoma brucei brucei
infected albino mice. This is to know whether Halfan and chloroquine can provide alternatives to diaminazine aceturate. White albino mice experimentally infected with
T. brucei brucei
which were separately treated 7 days post infection with Halfan at 100 mg/kg body weight as a single dose orally, chloroquine phosphate at 0.12 mg/kg body weight, administered intraperitoneally (IP) and DA given IP at 3.5 mg/kg body weight and the last group served as the untreated control. There was a slight depression of the packed cell volume (PCV) after infection of all the groups. However, following treatment, there was significant rise (
P
< 0.05) in the PCV values for animals in groups 1, 2, 3 but not for the control group, in which there was progressive reduction. Following infection with
T. brucei brucei
, this led to lymphocytosis in all the experimental groups but after treatment with Halfan, chloroquine and DA, there was gradual lymphocytopenia. There was neutropenia from day 0 to day 7 when they were subjected to different chemotherapeutic treatment; there was variable neutrophilia but never to pre-infection level till the termination of the experiment. Although, there was transient eosinophilia which subsided to normalcy just before treatment but stabilized after treatment except in group 3 (DA treated). There was significant decrease (
P
< 0.05) in monocyte count in Halfan treated group and untreated control throughout the experimental period; this changed by day 30 when the study was voluntarily terminated. In groups 2 and 3, there was fluctuation over time but, the overall trend was that of an increase of monocytes throughout the experimental period. There is a possibility that parenteral formulation of Halfan may, if explored, provide maximal blood levels that can be used therapeutically alone or in combination with diaminazine aceturate, instead of oral formulations used in this study.