09.01.2020 | Original Article | Ausgabe 2/2020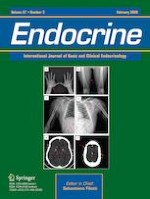 Sonographic features of follicular variant of papillary thyroid carcinoma (FV-PTC) and diagnostic performance of the 2017 ACR TI-RADS in FV-PTC
Zeitschrift:
Autoren:

Fan Zhang, Wen Chen
Wichtige Hinweise
Publisher's note
Springer Nature remains neutral with regard to jurisdictional claims in published maps and institutional affiliations.
Abstract
Purpose
To find the sonographic features of follicular variant of papillary thyroid carcinoma (FV-PTC) and evaluate the diagnostic performance of 2017 ACR TI-RADS in FV-PTC.
Methods
From June 2017 to June 2019, 104 FV-PTC patients (106 nodules) and 337 classic papillary thyroid carcinoma (C-PTC) patients (343 nodules) with both sonograms and pathologic results were included. Sonographic features of FV-PTC and C-PTC were evaluated and compared, and 2017 ACR TI-RADS scores and levels were calculated.
Results
Pathologically, the incidence of Hashimoto's thyroiditis and extrathyroidal extension was higher in the FV-PTC group. Most of both the FV-PTC and C-PTC groups were diagnosed as PTC or suspicious PTC by fine-needle aspiration biopsy (FNAB). FV-PTC tended to be isoechoic, while most nodules of C-PTC were hypoechoic or very hypoechoic. Compared with C-PTC, FV-PTC had lower percentages of a taller-than-wide shape (11.3% vs. 46.6%) and lobulated or irregular margin (33.0% vs. 61.8%), and a higher percentage of extrathyroidal extension (20.8% vs. 8.2%). FV-PTC featured macrocalcifications, whereas punctate echogenic foci were more frequently seen in the C-PTC group. Other characteristic US appearances of FV-PTC included uneven hypoechoic halo and peripheral vascularity. The mean TI-RADS score of FV-PTC cases was lower in the FV-PTC group, 11.3%, 44.3%, and 42.5% of which were categorized as TI-RADS 3, 4, and 5, respectively.
Conclusions
FV-PTC features isoechoic appearance, macrocalcifications, uneven hypoechoic halo, and peripheral vascularity on US, with lower incidences of microcalcifications and taller-than-wide shape, and tends to have lower TI-RADS scores and levels. For the nodules categorized as TI-RADS 3 or 4, the FNAB criteria should be broaden when these nodules have FV-PTC US features.