25.07.2017 | Original Article | Ausgabe 4/2017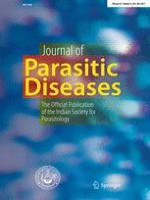 Spatio-temporal analysis of cutaneous leishmaniasis using geographic information system among Iranian Army Units and its comparison with the general population of Iran during 2005–2014
Zeitschrift:
Autoren:

Reza Pakzad, Arasb Dabbagh-Moghaddam, Mehdi Mohebali, Saeid Safiri, Mohammad Barati
Abstract
To investigate the time trend and distribution of cutaneous leishmaniasis in Iranian Army Units (IAUs) and general population (GP). with using census, Data on CL incidence in IAUs (from AJA University of Medical Sciences) and GP (from Ministry of Health) during 2005–2014 were extracted and entered into the GIS software. Cochran–Armitage test, choropleth map, hot-spot analysis and high/low clustering analysis were used to determine time trend, distribution of disease, hot-spots, and possible abnormal clustering, respectively. The number of infected individuals in IAUs and GP were 6533 and 153,499 respectively (with incidence rates of 143.68 per 100,000 and 25.86 per 100,000, respectively). Time trend analysis revealed the departure from linear trend for the incidence in IAUs (
p
< 0.001), but no such time trend was found in GP. According to choropleth maps; in IAUs, Khozestan from southwest, Esfahan from central and Kermanshah from west parts of Iran and among GP; Fars, Yazd, and Kerman in southern-east of Iran showed a high incidence rates. In IAUs, Esfahan and Khuzestan provinces was hot-spots of CL (
p
< 0.05), but in GP, provinces like Fars and Khorasan-shomali was hot-spots (
p
< 0.05). No clustering pattern of disease was observed in either study populations. Observed spatiotemporal variability in CL among IAUs and GP warrants proper health programs particularly to Khozestan and Esfahan in IAUs and Fars and Khorasan-shomali in GP are highly recommended.