01.12.2017 | Research article | Ausgabe 1/2017 Open Access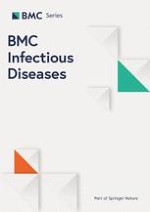 Spatio-temporal clustering analysis and its determinants of hand, foot and mouth disease in Hunan, China, 2009–2015
Zeitschrift:
Autoren:

Xinrui Wu, Shixiong Hu, Abuaku Benjamin Kwaku, Qi Li, Kaiwei Luo, Ying Zhou, Hongzhuan Tan
Wichtige Hinweise
Electronic supplementary material
Abbreviations
ECHO30
Enteric Cytopathic Human Orphan Virus 30
Background
Hand, foot and mouth disease (HFMD) is a highly contagious disease caused mainly by human enterovirus 71 (EV71) and coxsackievirus A16 (CoxA16), [
1
]. Although the infection is typically mild and self-limiting, infants and children, especially those under 5 years old are at greatest risk of severe disease affecting the central nervous system [
2
]. Currently, there are no available vaccines, chemoprophylaxis and effective anti-virus therapies for dealing with HFMD [
3
,
4
].
The past decades have witnessed several outbreaks of HFMD across the world, affecting millions of people in countries such as Bulgaria, Australia, Japan, and Vietnam [
5
–
8
]. In March 2008, a nation-wide epidemic of HFMD started in Fuyang City, Anhui Province, China, recording 6049 cases and 22 deaths [
9
]. In view of these influences, HFMD has been listed as a reportable disease by the Chinese Ministry of Health to facilitate better disease prevention and control. Surveillance data shows that over 7.2 million cases and 2457 fatal cases were reported in China between 2009 and 2012, making HFMD the top reportable disease in China during the period under review [
10
].
Many studies showed that some climatic factors were associated with HFMD infection. By using a time series analysis, Huang et al. found that temperature and relative humidity were statistically related to HFMD occurrence [
11
]. However, a study carried out by Li et al. showed atmospheric pressure having a negative relationship with HFMD incidence in Guangzhou city [
12
]. Although several spatial analyses on HFMD prevalence have been conducted, only few studies have focused their analyses on determinant factors which attributed to HFMD spatio-temporal clusters [
13
–
15
]. Most studies only described the spatial patterns and cluster locations of cases. The objective of our study was to map county-level epidemiological characteristics and spatio-temporal distribution of HFMD incidence and to explore the determinants of HFMD in different clustering areas. Findings of the study were to guide the allocation of public health resources to maximize cost-effectiveness in the prevention and control of HFMD epidemics.
Methods
Results
Discussion
In this study, we confirmed that Hunan Province was one of the most serious HFMD epidemic areas in China with the average incidence rate of 194.57 per 100,000, which was much higher than the national average of 139.78 per 100,000 [
32
]. Furthermore, the incidence rate showed a rapidly increasing trend within the recent 4-year period, suggesting that the prevention and control of HFMD was still a major public health problem in the province. Scattered children under 5 years old accounted for more than 85% of all cases, and the incidence rate was especially high in the 1-year-old group, comparing well with previous reports [
33
,
34
]. Poor immunity as well as a lack of available vaccines made it easier for children to succumb to HFMD viruses. Consistent with Deng's reports [
3
], our study found that incidence rate among males was about 1.66 times greater than females, and this could be attributed to the fact that males spent more time engaged in outdoor activities thereby exposing them to pathogens.
Although EV71 and CoxA16 were still predominant in newly occurring HFMD cases around the world [
35
,
36
], our study showed that other EV pathogens ranked first in the recent three-year period. Notably, some other reports have suggested that CoxA6, ECHO30 and CoxA10 were going to be the important causative agents for HFMD [
37
–
39
]. This means that surveillance systems should look out for new pathogenic strains alongside the regular EV61 and CoxA16 virus to prevent possible outbreaks associated with other new enteroviruses.
Our study showed significant seasonality in the incidence of HFMD (it peaked in April to July and September to November), similar to other studies conducted in Singapore [
40
] and Taiwan [
41
]. The first peak might be the result of the warm temperature, abundant rainfall and high atmospheric pressure during the season. Many children enter kindergarten in September thereby increasing the occurrence of the clustering of cases associated with the second minor peak. Thus, measures such as morning checks, case isolation and school closure should be implemented to reduce incidence and spread of HFMD during the high incidence period.
The global spatial autocorrelation analysis showed that the incidence of HFMD in Hunan during the 2009–2015 period was not randomly distributed at county level. The high-high clusters were aggregated in the provincial capital city, Changsha, and its neighboring areas, whereas some counties in rural areas such as Huaihua, Chenzhou and Yongzhou were low-low clusters in the LISA map. These hot spots were mainly located in areas with highly developed economy, high population density, and good health similar to the observations by Deng et al. [
3
]. Furthermore, spatiotemporal clusters of HFMD cases appeared annually during the study periods. Nearly all the clusters occurred in April to July, which was the same as the major peak of incidence of HFMD in Hunan. Consistent with most previous researches, the most likely clusters stayed almost the same in the urban areas [
3
,
42
,
43
], nevertheless the secondary clusters were diverse during the 2009–2015 period with a shifting trend toward the south and west. According to our study, the occurrence of HFMD spatiotemporal clusters is showing a new trend which needs further research to provide early warning signals for HFMD epidemics.
Although the effect of climatic factors on HFMD incidence has been revealed in many previous researches, there is few supporting studies about the effect of weather conditions on HFMD spatiotemporal clusters. Our autologistic regression analysis results showed that monthly average rainfall (OR = 2.187), monthly average temperature (OR = 4.329) and monthly relative humidity(OR = 2.070) were risk factors for HFMD spatiotemporal clusters, which were in agreement with some HFMD incidence reports [
12
,
44
]. Warm weather, abundant rainfall and high humidity may facilitated the reproduction and transmission of enteroviruses, and facilitated the HFMD clusters. We also found that wind speed (OR = 0.258) has negative correlation with HFMD spatiotemporal clusters, and this compares well with observations by Gui et al. [
42
]. Wind speed may reduce the concentration of viruses per unit volume and could prevent HFMD virus spread through air and direct contact.
Our research showed that autologistic regression model has a higher goodness of fit than the ordinary one. The value of the constant is the prediction residual error of the regression model. The smaller the value is, the better the interpretation function of the model. By introducing the covariates
SAuto cov
i
and
TAuto cov
i
, the constant decreased significantly whilst the
p
-value of two covariates were less than 0.001,which indicated the existence of spatial and temporal autocorrelation. Thus, autologistic regression model could reduce the inherent residuals and bias of the model and improve the accuracy in evaluating the effect of determinants in spatio-temporal clustering of HFMD.
There are some limitations in this study. Firstly, the quality of case reports in the surveillance system might vary from area to area due to differences in the availability of medical resources [
4
]. Some mild cases not going to hospitals also resulted in the underreporting of HFMD cases. Secondly, we chose the county as the least spatial unit which might lose some detailed information. It would have been a good idea to use a more finer areal unit scale such as village or community.
Conclusions
In summary, this study highlighted that the HFMD incidence from 2009 to 2015 in Hunan Province exhibited dynamic spatiotemporal distribution at county level, with the new shifting trend of clustering areas toward south and west. The autologistic regression model has a higher goodness of fit. After controlling for spatial-temporal heterogeneity, some meteorological parameters, especially rainfall, temperature and humidity might be associated with these clusters. Nevertheless, wind speed was the potential protect factors for the spatiotemporal patterns' change of HFMD. Our findings provide information for a better understanding of epidemic trends and subsequently the development of more effective HFMD prevention and control strategies.
Acknowledgements
We would like to thank the Hunan Center for Disease Control and Prevention for providing the data of the notified hand, foot and mouth disease cases in Hunan Province. We acknowledged the efforts of local CDCs and hospitals in investigating and reporting these cases. We also would like to thank colleagues in the Department of Epidemiology and Health Statistics, Xiangya School of Public Health, Central South University for suggestions and software supports.
Funding
This work was supported by the program of Chinese Preventive Medicine Association Scientific Research Projects (20101801).
Availability of data and materials
The datasets used or analyzed during the current study are available from the corresponding author on reasonable request.
Author's contributions
XW and HT conceived the study, performed data analysis, interpretation and wrote the manuscript. SH sourced for funding. ABK contributed to the manuscript. QL and KL were responsible for data collection. YZ assisted in data access. All authors have read and approved the final manuscript prior to submission.
Ethics approval and consent to participate
This study was approved by the Ethics Committee of the Hunan Center for Disease Prevention and Control. All data (including name, identity information, address, telephone number, etc.) were anonymized, and no individual information can be identified.
Consent for publication
Not applicable.
Competing interests
The authors declare that they have no competing interests.
Publisher's Note
Springer Nature remains neutral with regard to jurisdictional claims in published maps and institutional affiliations.
Open Access
This article is distributed under the terms of the Creative Commons Attribution 4.0 International License (
http://​creativecommons.​org/​licenses/​by/​4.​0/​
), which permits unrestricted use, distribution, and reproduction in any medium, provided you give appropriate credit to the original author(s) and the source, provide a link to the Creative Commons license, and indicate if changes were made. The Creative Commons Public Domain Dedication waiver (
http://​creativecommons.​org/​publicdomain/​zero/​1.​0/​
) applies to the data made available in this article, unless otherwise stated.