01.12.2015 | Study protocol | Ausgabe 1/2015 Open Access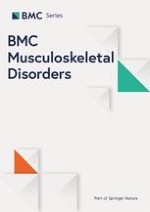 Specific exercise training for reducing neck and shoulder pain among military helicopter pilots and crew members: a randomized controlled trial protocol
Zeitschrift:
Autoren:

Mike Murray, Britt Lange, Bo Riebeling Nørnberg, Karen Søgaard, Gisela Sjøgaard
Wichtige Hinweise
Competing interests
The authors of this manuscript declare that they have no competing interests, financially or non-financially.
Authors' contributions
MM has drafted the manuscript. MM, GS, KS, BL have all made significant intellectual contributions to the study design and protocol, with GS as project manager. BRN has made substantial contributions to the design and logistical planning of the study. All authors have been involved in drafting the manuscript and revising it critically for important intellectual content. The final manuscript has been read and approved by all authors.
Abstract
Background
Flight-related neck/shoulder pain is frequent among military helicopter pilots and crew members. With a lifetime prevalence of 81 % for pilots and 84 % for crew members, the prevalence of neck pain is considered high compared to the general population. The aim of this study was to investigate whether a specifically tailored exercise intervention would reduce the prevalence and incidence rate of neck/shoulder pain among helicopter pilots and crew members.
Method
This study used a prospective, parallel group, single blinded, randomized controlled design. Participants were military helicopter pilots and crew members recruited from the Royal Danish Air Force. Inclusion criteria were: 1) employed within the Royal Danish Air Force as a helicopter pilot or onboard crew member (technician, systems-operator, tactical helicopter observer and/or navigator), 2) maintaining operational flight status at enrollment, and 3) operational flying within the previous 6 months. Primary outcome was change in neck and shoulder pain assessed by 1) a modified version of the "Standardized Nordic questionnaire for the analysis of musculoskeletal symptoms" and by 2) pressure pain threshold measurements. Secondary outcomes included: postural balance, strength, stability, and rate of force development for neck and shoulder muscles. Measurements at baseline and follow-up were conducted at four air force bases in Denmark. Sixty-nine participants were individually randomized to either a training group (TG) or a reference group (RG). Participants in the TG performed 20-weeks of physical exercise training divided into sessions of 3 × 20 min per week. Training was completed within working hours and consisted of specific exercise training for the neck and shoulder muscles based on the principles of "Intelligent Physical Exercise Training". The RG received no training.
Discussion
In spite of the high prevalence of flight related neck/shoulder pain among military helicopter pilots and crew members there are currently no evidence based guidelines for the prevention or clinical handling of neck pain among these occupational groups. Results from this study may therefore be beneficial for future establishment of such guidelines.
Trial registration
Ethical committee of Southern Denmark (S-20120121) 29 August, 2012.
Clinical Trail Registration (
NCT01926262
) 16 August, 2013.