01.12.2017 | Research article | Ausgabe 1/2017 Open Access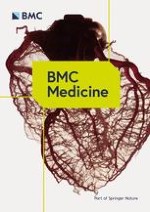 Spectrum of mutations in monogenic diabetes genes identified from high-throughput DNA sequencing of 6888 individuals
Zeitschrift:
Autoren:

Vikas Bansal, Johann Gassenhuber, Tierney Phillips, Glenn Oliveira, Rebecca Harbaugh, Nikki Villarasa, Eric J. Topol, Thomas Seufferlein, Bernhard O. Boehm
Wichtige Hinweise
Electronic supplementary material
The online version of this article (doi:
10.​1186/​s12916-017-0977-3
) contains supplementary material, which is available to authorized users.
Abbreviations
ACMG
American College of Medical Genetics
ExAC
Exome Aggregation Consortium
MODY
Maturity onset diabetes of the young
PTV
protein truncating variant
SNV
Single nucleotide variant
Background
Methods
Results
Discussion
In this study, we sequenced and analyzed mutations in monogenic diabetes genes in a large cohort of individuals with diabetes (
n
 = 4016) and controls (
n
 = 2872) from the southern part of Germany. Among individuals with young onset and adult onset diabetes, 40 individuals (1.8% of subjects with early onset diabetes and 0.6% with late onset) were carriers of known pathogenic missense mutations in the
GCK
,
HNF1A
,
HNF4A
,
HNF1B
,
ABCC8
, and
INS
genes. Additionally, protein truncating mutations in these genes were identified in seven individuals with diabetes. The diabetes phenotype of these individuals is likely "
dominated by perturbation in a small number of processes
" related to islet-cell function and hence their diagnosis and treatment can benefit from this knowledge [
61
]. Although pathogenic missense and PTVs in these genes were strongly enriched in individuals with early onset diabetes, none of these participants fulfilled classical Tattersall criteria of monogenic diabetes mellitus. To enable clinicians to discriminate between T2D and MODY, guidelines for selecting individuals for genetic testing based on clinical criteria have been established [
25
]. Our population study was not designed to include family members and to genotype or phenotype family members, which may have potentially limited the ability to identify individuals with MODY. Nevertheless, several studies have shown that clinical criteria alone are not sufficient to diagnose MODY and genetic testing is needed for a definitive diagnosis [
49
].
The most commonly mutated genes in MODY are
HNF1A
and
GCK
, followed by
HNF4A
and
HNF1B
[
49
]. In our data, the maximum number of pathogenic mutations was observed in the
GCK
gene (17 carriers with 14 in the early onset sub-group) followed by
HNF1A. GCK
-MODY is characterized by mild hyperglycemia typically without diabetes associated microvascular and macrovascular complications [
20
]. Therefore,
GCK
-MODY is perhaps the most likely form of MODY to be misdiagnosed as T2D [
20
]. Detection of a
GCK
mutation in an individual with T2D is important from a clinical perspective since no medications are necessary for such individuals except for females during pregnancy.
In addition, the frequency of missense pathogenic mutations in commonly mutated MODY genes observed in our cohort was much higher than the frequency of protein truncating mutations, likely due to the fact that individuals with early onset diabetes were screened for MODY using phenotypic criteria and, as a result, the cohort is depleted of individuals with protein truncating mutations in MODY genes likely to be fully penetrant. Approximately 0.6% of individuals with late onset diabetes were observed to be carriers of likely pathogenic missense mutations that have previously been associated in MODY or early onset diabetes, suggesting that individuals with late onset T2D can also harbor deleterious variants in monogenic diabetes genes with moderate penetrance. A recent study by Flannick et al. [
22
] sequenced seven MODY genes in two large population cohorts and found 0.5–1.5% of individuals to be carriers of rare missense mutations predicted to be deleterious by bioinformatics tools or previously reported in MODY. However, the majority of these individuals were found not to have diabetes. In contrast, our study was a case–control study and included a large number of individuals (1346) with early onset diabetes. Rare missense mutations that have been previously associated with MODY or early onset diabetes were strongly enriched in the sub-group with early onset diabetes. Another recent large-scale exome sequencing study found a modest but statistically significant enrichment of rare deleterious variants in monogenic diabetes genes in individuals with T2D compared to controls [
62
].
We detected multiple early onset diabetes subjects with pathogenic missense mutations in the
ABCC8
gene. Such individuals can be treated effectively with sulfonylureas rather than insulin or other medications. The
ABCC8
gene is considered for genetic testing in neonatal diabetes but several studies have identified
ABCC8
missense mutations in individuals with early and late onset diabetes [
63
–
65
]. In addition, one individual with early onset diabetes was homozygous for a rare and pathogenic missense variant in the
WFS1
gene, suggesting that genetic testing can identify individuals with an atypical presentation of WS.
Although sequencing can identify pathogenic mutations in genes strongly linked with disease, such as MODY genes, it is challenging to distinguish such mutations from the vast number of neutral mutations observed in large-scale sequencing studies [
66
]. In the
GCK
gene, our data suggests that the vast majority of missense mutations increase the risk for diabetes to a varying degree. However, in MODY genes such as
HNF1A
and
HNF4A
, not all missense mutations increase the risk for diabetes and, therefore, it is challenging to ascribe pathogenicity to a novel missense mutation based on predictions made by bioinformatics tools. In our data, we did not observe a significant association between rare missense mutations in the genes predicted to be deleterious by multiple bioinformatics tools and risk of diabetes. Recently, Najmi et al. [
67
] used functional assays to evaluate the missense mutations in the
HNF1A
gene identified by Flannick et al. [
22
], and showed that 11 of these mutations that reduced transcriptional activity were strongly associated with an increased risk of diabetes (OR, 5.04). Functional assays have been used to identify pathogenic variants in other genes linked with diabetes [
68
,
69
]. Therefore, classification of novel missense variants identified in our study using functional assays has the potential to identify additional individuals with mutations that increase the risk of MODY or T2D.
Our study leveraged the massive throughput of high-throughput sequencing instruments and the ability to sequence selected regions of the human genome in large numbers of individuals. We utilized a pooled DNA sequencing approach to reduce the cost of DNA library preparation. Although pooled sequencing was highly cost-effective and allowed us to sequence nearly 6900 individuals with high sensitivity and specificity for the detection of rare variants, it is less informative than individual sequencing about individual genotypes and does not allow for the detection of copy number variants such as large deletions. In addition, some of the genes targeted for sequencing in our study had low sequence coverage (e.g., the
INS
gene) and we estimated a false negative rate of ~7% for the discovery of rare variants. As a result, a small number of pathogenic mutations were likely not detected. It is possible that additional pathogenic variants (e.g., in non-coding regions) in known monogenic diabetes genes as well as novel genes for early onset diabetes remain to be identified, thereby defining new variants with a large effect on the disease phenotype. Another limitation of our study is the lack of family data or access to DNA samples from first degree relatives of individuals with diabetes for further genotype and phenotype studies.
Our cohort represents a relatively homogeneous cohort of European ancestry from the southern region of Germany with well-defined criteria for classifying individuals as cases and controls. All subjects had been screened for the presence of islet cell autoimmunity to exclude the presence of classical autoimmune diabetes (T1D) and late onset/latent autoimmune diabetes in adult [
70
]. Many large scale studies of the genetics of T2D do not measure islet cell antibodies and, therefore, exclude subjects with an early age of onset to avoid including T1D cases. In addition, in view of the high prevalence of subjects with latent autoimmune diabetes in adult onset diabetes subjects a major confounding factor can be present in genetic studies of the so-called T2D [
71
]. There is growing evidence from genetic studies for the heterogeneity of the adult onset diabetes phenotype and overlap with monogenic diabetes [
67
] and T1D [
70
]. Multiple studies have shown that 5–15% of individuals with so called T2D are positive for islet cell antibodies [
72
,
73
]. Recent work has addressed the question of a fine-grained categorization of adult onset diabetes using clinical data in large cohorts [
74
].
Conclusion
In our sequencing study involving 6888 individuals, 2.2% of individuals with early onset diabetes and 0.7% of individuals with late onset diabetes harbored a likely pathogenic mutation in monogenic diabetes genes. Our results confirm previous reports that MODY is under-diagnosed [
19
,
75
], particularly in individuals presenting with early onset diabetes and clinically labeled as T2D and, in such cases, genetic testing can provide an etiological diagnosis. With the continuing reduction in costs of DNA sequencing, genetic screening of all known monogenic diabetes genes in individuals with early onset diabetes should be routinely considered since it can identify individuals with undiagnosed MODY as well as atypical forms of monogenic diabetes. Knowledge of mutations in monogenic diabetes genes has the potential to influence diagnosis and therapy for individuals with diabetes as well as to enable the genetic testing of relatives.
Acknowledgements
VB is supported by start-up funds from the Department of Pediatrics, University of California San Diego. BOB is supported by Lee Kong Chian School of Medicine, Nanyang Technological University Start Up Grant, MOE AcRF Tier 1 (2015-T1-001-258) and NTU-NHG Metabolic Diseases Collaboration Grant (MDCG/15006); Deutsche Forschungsgemeinschaft (DFG, GrK 1041) and State Baden-Wuerttemberg, Germany. We thank Roza Blagieva for recruitment and phenotyping of diabetes patients and controls. We thank Silke Rosinger, Angelika Kurkhaus, Rosina Sing, and Silvia Hoepfer for sample collection, DNA preparation and aliquoting as well as for performing islet-cell antibody measurements. We thank Ryan Tewhey for help with DNA pooling.
Funding
This study was supported in part by Sanofi-Aventis. The funders had no role in data analysis and interpretation and in the writing of the manuscript.
Availability of data and materials
The datasets analyzed during the current study are available from the corresponding author on reasonable request.
Ethics approval and consent to participate
All individuals gave informed consent for use of their DNA samples for genetic studies. The study was approved by the Institutional Review Board of Ulm University, Ulm, Germany (registration numbers 42/2004 and 189/2007) and the Chamber of Physicians, State Baden-Wuerttemberg, Germany (registration number 133-2002), and is in accordance with the ethical principles of the Declaration of Helsinki.
Consent for publication
Not applicable
Competing interests
JG is an employee of Sanofi-Aventis.
Publisher's Note
Springer Nature remains neutral with regard to jurisdictional claims in published maps and institutional affiliations.
Open Access
This article is distributed under the terms of the Creative Commons Attribution 4.0 International License (
http://​creativecommons.​org/​licenses/​by/​4.​0/​
), which permits unrestricted use, distribution, and reproduction in any medium, provided you give appropriate credit to the original author(s) and the source, provide a link to the Creative Commons license, and indicate if changes were made. The Creative Commons Public Domain Dedication waiver (
http://​creativecommons.​org/​publicdomain/​zero/​1.​0/​
) applies to the data made available in this article, unless otherwise stated.