01.12.2017 | Research article | Ausgabe 1/2017 Open Access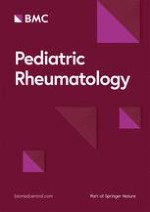 Spectrum of paediatric rheumatic diseases in Nigeria
Zeitschrift:
Autoren:

Babatunde Hakeem Olaosebikan, Olufemi Oladipo Adelowo, Barakat Adeola Animashaun, Richard Oluyinka Akintayo
Abbreviations
ACR
American College of Rheumatology
DMARD
Disease-modifying anti-rheumatic drug
ELISA
Enzyme-linked immunosorbent assay
ENA
Extractable nuclear antigen
JCTD
Juvenile connective tissue diseases
JIA
Juvenile idiopathic arthritis
JSLE
Juvenile systemic lupus erythematosus
JSLE
Juvenile systemic lupus erythematosus
LASUTH
Lagos State University Teaching Hospital
NSAID
Non-steroidal anti-inflammatory drug
PM-SLE overlap
Polymyositis-systemic lupus erythematosus overlap
PRDs
Pediatric rheumatic diseases
SARD
Systemic autoimmune rheumatic diseases
Background
The burdens and impacts of malnutrition, poverty-related and infectious diseases are well known in Sub-Sahara Africa. There is however, little or no attention to non-communicable diseases including paediatric rheumatic diseases (PRDs). The shortage of paediatric rheumatologists and other rheumatology health professionals as well as a general lack of awareness of this subject often contribute to missing these diagnoses and a consequent perception of rarity of PRDs in Africa [
1
]. In developing countries, prevalence estimates of PRDs are usually difficult to determine. This is especially so in Africa where access to pediatric rheumatology service is rare [
2
]. In Singapore, the prevalence of true PRDs among all cases referred to childhood rheumatology clinic is 57.8%, while in four Canada provinces, the prevalence estimates over 9 to 14 year period for systemic autoimmune rheumatic diseases (SARD) is 2 SARD cases per 10,000 residents aged 18 or less [
3
,
4
]. However, this estimate did not include frequency of individual SARD. The frequencies and spectrums of PRDs vary in different studies from the western hemisphere and Asia. Whilst some studies from North America and Europe have reported JIA as the most frequent PRD, a study from Asia found systemic vasculitis as the most common [
3
,
5
–
8
]. In Africa, there are few reports on PRD conditions such as JIA, juvenile systemic lupus erythematosus (JSLE), and juvenile dermatomyositis (JDM) [
9
–
11
]. However, there is a dearth of reports on the frequencies and spectrums of PRDs in various Sub-Saharan African settings [
1
]. A hospital-based report of the spectrum of PRDs in two tertiary institutions in South Africa has documented a relative frequency of 33.3% for JIA and 10.2% for juvenile connective tissue diseases (JCTD) [
12
]. Also, inflammatory arthritides were the most frequent musculoskeletal conditions among Kenyan children in outpatient clinics and wards [
13
,
14
]. Patients with JCTD were, however, not included in the Kenyan studies. In a new rheumatology clinic in Zambia, Chipeta et al. registered 230 pediatric rheumatic cases over 2 years but the pattern of the PRDs was not stated in their report [
15
].
Epidemiological reports of PRDs in Africa are hampered by the lack of trained professionals in the field of rheumatology. Therefore, the burden of these diseases is unknown. Moreover, cases are often misdiagnosed or under-diagnosed and this is helped by a number of factors. One is the widespread belief that arthritis does not occur in children. Also, the much higher rate of infectious conditions often poses a lot of confusion and tends to lead to a delay in definitive diagnosis. Clinicians might believe they are dealing with an occult infection over a sustained period in a true case of rheumatic disease.
To the best of our knowledge, there have been no published reports of the spectrums of PRDs among West Africans. This is a retrospective study of the types and frequencies of PRDs in Nigerians attending a tertiary teaching hospital.
Methods
This is a retrospective review of PRD cases managed between the first week of March 2010 and the last week of February 2016 at the adult rheumatology unit of LASUTH. LASUTH is a tertiary teaching hospital in the cosmopolitan city of Lagos. The hospital has one of the two adult rheumatology clinics in the city. There is no paediatric rheumatology clinic in Nigeria and as such pediatric rheumatic patients are managed by adult rheumatologists in conjunction with paediatricians. The paediatric patients with either musculoskeletal complaints or systemic symptoms suspicious of a rheumatic disease were referred for rheumatology review from the paediatric clinic, peripheral hospitals or paediatric wards. The diagnosis of PRDs was based on validated criteria such as the American College of Rheumatology (ACR) classification criteria, International League of Association of Rheumatology criteria, and other validated criteria for rheumatic diseases. The entry criterion for case selection was the diagnosis of a PRD in the patient's record either as paediatric-onset disease in adult or a paediatric-age patient. Paediatric was defined as disease onset before the 16th birthday in all cases except JSLE where disease onset before the 18th birthday was adopted. The hospital records were retrieved for each patient and details of biodata, baseline clinical parameters, baseline laboratory indices, clinical diagnoses, drug treatments and patient outcomes were extracted. The duration of symptoms was taken as the onset from the first symptoms to clinical diagnosis at our facility. The full blood count, haematocrit, and erythrocyte sedimentation rate were documented in 50 cases (87.7%). Furthermore, C-reactive protein and serum ferritin were recorded for 37 cases (64.9%). Antinuclear antibody (ANA) was recorded in 48 cases(84.2%) while anti-extractable nuclear antigen (ENA) was documented in 16 patients(28.1%). Rheumatoid factor (RF) was recorded in seven patients (12.3%). ANA and ENA were analyzed by Enzyme-linked immunosorbent assay (ELISA) methods and RF was assayed by nephelometry.
Statistical methods
Fisher's exact test was applied to compare the clinical and laboratory characteristics between patients with JIA and patients with JCTD. All statistical analyses were done using the SPSS version 21(IBM USA, Armonk, NY 10504). A
p
value <0.05 was considered to be significant. Ethical approval was granted by the research and ethics committee of Lagos State University Teaching Hospital (LASUTH)
Results
A total of 57 patients with PRDs, which included 11 cases diagnosed in pediatric ward, 30 referred cases from general paediatric clinic, and 16 patients referred from peripheral hospitals were managed at the adult rheumatology unit. These accounted for 2.4% of the 2330 rheumatic cases diagnosed and managed in our institution over the study period. As shown in Table
1
, three quarters of our PRD cases were female and the mean age at presentation was 14 years. The mean duration of symptoms before the diagnosis was made was 18 months and musculoskeletal pain was documented in 52 (92%) PRD cases.
Table 1
Baseline demographic and clinical characteristics of 57 Nigerian children with PRDs
| | n (%) | Range | Mean(±SD) |
| --- | --- | --- | --- |
| Female | 43(75.4) | | |
| Male | 14(24.6) | | |
| Age at presentation (years) | | 1.5–22 | 14(±4.4) |
| Duration of symptoms (months) | | 2–60 | 18.4(±1.9) |
| Musculoskeletal pain | 52(91.2) | | |
| Arthritis | 40(70.2) | | |
| Constitutional symptoms | 33(57.9) | | |
| Extra-articular disease | 21(36.8) | | |
PRDs in 57 Nigerian children
As shown in Table
2
, JIA was the most frequent PRD seen in 28 (49%) of all cases. Polyarticular JIA(50%) was the most frequent of the three types of JIA observed. A total of 18 JCTD cases were seen. These accounted for 31.6% of all PRDs. They include 14 cases of JSLE, two cases of juvenile systemic sclerosis, and a case each of juvenile dermatomyositis and PM-SLE overlap.
Table 2
Spectrum of PRDs in 57 Nigerian children
Pediatric rheumatic diseases

Frequency (%)

Chronic inflammatory rheumatic diseases

 Juvenile idiopathic arthritis

28(49.1)

 Systemic onset JIA

5(17.8)

 Polyarticular JIA

14(50)

 Oligoarticular JIA

9(31.2)

Juvenile connective tissue diseases (JCTD)

 JSLE

14(24.6)

 Juvenile systemic sclerosis

2(3.5)

 Juvenile dermatomyositis

1(1.6)

 PM-SLE overlap

1(1.6)

Other rheumatic diseases

 Joint hypermobility syndrome

3(5.3)

 Isolated plantar fasciitis

2(3.5)

 Fibromyalgia

2(3.5)

 Juvenile autoimmune uveitis

1(1.6)

 Secondary osteoarthritis

1(1.6)

 Secondary osteoporosis

1(1.6)

 Osgood-Schlatter's disease

1(1.6)
Laboratory features
As shown in Table
3
, 23 patients had positive ANA while 13 patients had positive ENA antibody. Anaemia was recorded in 37 PRD patients (74%) while rheumatoid factor was positive in two patients with polyarticular JIA. The mean haematocrit was 27.7% while the mean ESR was 72.9 mm/h.
Table 3
Laboratory characteristics of Nigerian children with PRDs
| Laboratory abnormalities | Total number of PRD cases tested | n (%) |
| --- | --- | --- |
|  Anaemia(haematocrit < 33%) | 50 | 37(74) |
|  Elevated ESR(ESR > 20 mm/h) | 50 | 42(84) |
|  Elevated CRP(CRP > 8 mg/l) | 37 | 32(86.4) |
|  Elevatedferritin (Ferritin > 150 μg/l) | 37 | 27(72.9) |
|  Elevated RF(Rh-factor > 30iu/ml) | 7 | 2(28.6) |
|  Positive Anti-nuclear antibody | 48 | 23(47.9) |
|  Positive Anti-ENA antibody | 16 | 13(81.2) |
| Laboratory parameters in SARDs | Mean(±SD) | Range |
|  Haematocrit (%) | 27.7(±7.5) | 14–42 |
|  ESR (mm/h) | 72.9(±37.4) | 4–142 |
|  WBC (/μL) | 11,081(±8,742) | 1,350–45,600 |
|  Platelet count (/μL) | 336,166(±191,938) | 81,200–820,000 |
|  CRP (mg/L) | 8.1(±4.9) | 3–21 |
|  Ferritin(mg/dl) | 548.5(±273.4) | 62–2,140 |
The JCTD cases seen include JSLE, juvenile systemic sclerosis, juvenile dermatomyositis, and PM-SLE overlap. In addition to JIA, these five diagnoses constituted the chronic inflammatory rheumatic disorders managed. Constitutional symptoms such as progressive weight loss, recurrent fever and fatigue were present in all patients with JCTD while constitutional symptoms were found in 15 (53.6%) patients with JIA (
p
 < 0.001). Elevated ESR was found in 15 (83.3%) of JCTD patients and 25 (89.3%) of JIA patients. However, the difference in these proportions was not statistically significant (
p
 = 0.666). Extra-articular manifestations included organ based features such as nephritis, pneumonitis and uveitis which excluded the musculoskeletal and constitutional symptoms; and they were found in all 18 (100%) patients with JCTD and 3 (10.7%) patients with JIA (
p
 < 0.001).
Treatment and outcome patterns in Nigerians with PRDs
Non-steroidal anti-inflammatory drugs (NSAIDs) were used for treatment in 40 (70.1%) cases while oral prednisolone was used in 32 (56.1%) cases. Twenty-five (43.8%) patients with JIA had methotrexate while all cases with JSLE had hydroxychloroquine. Five patients had biologic agents (rituximab in four and etanercept in one) out of 18 biologic-eligible patients. Rituximab was used in four JSLE patients with refractory lupus nephritis unresponsive to prednisolone, hydroxychloroquine, and azathioprine or mycophenolate mofetil while etanercept was administered in one refractory rheumatoid factor-positive polyarticular JIA patient. This latter patient happened to be the only survivor among all patients that had biologics. There were six mortalities accounting for 10.5% of the PRD cases while 20 (35.1%) patients were lost to follow up. Four mortalities were in patients with JSLE while two were in patients with systemic onset JIA. Progressive renal failure from lupus nephritis was the cause of mortality in the deceased JSLE patients. While one patient with systemic onset JIA died from overwhelming sepsis, the other died from suspected macrophage activating syndrome.
Discussion
Patients with a high clinical likelihood of a particular PRD had laboratory investigations tailored to that condition. This policy was adopted in our center to reduce the cost and burden of investigations on our patients as most of these patients pay directly for their laboratory investigations. The proportion of PRD cases with anaemia and elevated ESR in this study is high. This is due to a high proportion of subjects with SARDs in this study. Although, the proportions of nutritional anaemia and occult parasitaemia were not estimated in our patients, they may contribute to the high percentage of subjects with anaemia in our study.
Conclusions
The spectrum of PRDs observed in this Nigerian series shares some similarities with patterns described in earlier studies from South Africa, North America and Europe. In all of these studies JIA accounts for the largest number of PRDs. Our patients with JIA tend to be younger than the patients presenting with JCTDs. However, systemic vasculitides, the most frequent PRDs in Singapore, were not observed in our series. The Nigerian patients with PRDs are more likely to be female, are more likely to present to the hospital later than children from the West and are more likely to present with musculoskeletal complaints than other symptoms.
Acknowledgements
Not applicable.
Availability of data and materials
The dataset used and analysed during the current study is available from the corresponding author on reasonable request.
Authors' contributions
OBH and AOO designed the study. OBH, ABA and ARO gathered the data and did the analysis. OBH and ARO wrote the first draft while AOO and ABA revised it. All authors read and approved the final manuscript.
Competing interests
The authors declare that they have no competing interests.
Consent for publication
Not applicable.
Ethics approval and consent to participate
Ethical approval was obtained from the research and ethics committee of LASUTH.
Open Access
This article is distributed under the terms of the Creative Commons Attribution 4.0 International License (
http://​creativecommons.​org/​licenses/​by/​4.​0/​
), which permits unrestricted use, distribution, and reproduction in any medium, provided you give appropriate credit to the original author(s) and the source, provide a link to the Creative Commons license, and indicate if changes were made. The Creative Commons Public Domain Dedication waiver (
http://​creativecommons.​org/​publicdomain/​zero/​1.​0/​
) applies to the data made available in this article, unless otherwise stated.