01.12.2008 | Research article | Ausgabe 1/2008 Open Access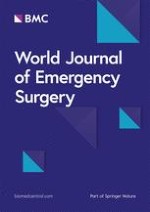 Spectrum of perforation peritonitis in Pakistan: 300 cases Eastern experience
Zeitschrift:
Autoren:

Shahida Parveen Afridi, Faiza Malik, Shafiq Ur-Rahman, Shahid Shamim, Khursheed A Samo
Wichtige Hinweise
Competing interests
The authors declare that they have no competing interests.
Authors' contributions
SA participated in designing and righting of this study and coordination with the other authors during this study, FM help in data collection, SR supervise this study, SS participated in the sequence and alignment, and KS carried out all investigations in emergency, Surgical procedure performed on these patients in emergency by the team of the department of general surgery surgical unit III. All authors approved the final manuscript.
Abstract
Background
Perforation peritonitis is the most common surgical emergency encountered by the surgeons all over the world as well in Pakistan. The spectrum of etiology of perforation peritonitis in tropical countries continues to differ from its western counter part. This study was conducted at Dow University of health sciences and Civil Hospital Karachi (DUHS & CHK) Pakistan, designed to highlight the spectrum of perforation peritonitis in the East and to improve its outcome.
Methods
A prospective study includes three hundred consecutive patients of perforation peritonitis studied in terms of clinical presentations, Causes, site of perforation, surgical treatment, post operative complications and mortality, at (DUHS&CHK) Pakistan, from 1st September 2005 – 1st March 2008, over a period of two and half years. All patients were resuscitated underwent emergency exploratory laparotomy. On laparotomy cause of perforation peritonitis was found and controlled.
Results
The most common cause of perforation peritonitis noticed in our series was acid peptic disease 45%, perforated duodenal ulcer (43.6%) and gastric ulcer 1.3%. followed by small bowel tuberculosis (21%) and typhoid (17%). large bowel perforation due to tuberculosis 5%, malignancy 2.6% and volvulus 0.3%. Perforation due to acute appendicitis (5%). Highest number of perforations has seen in the duodenum 43.6%, ileum37.6%, and colon 8%, appendix 5%, jejunum 3.3%, and stomach 2.3%. Overall mortality was (10.6%).
Conclusion
The spectrum of perforation peritonitis in Pakistan continuously differs from western country. Highest number of perforations noticed in the upper part of the gastrointestinal tract as compared to the western countries where the perforations seen mostly in the distal part. Most common cause of perforation peritonitis is perforated duodenal ulcer, followed by small bowel tuberculosis and typhoid perforation. Majority of the large bowel perforations are also tubercular. Malignant perforations are least common in our setup.