14.08.2018 | Reproductive Physiology and Disease | Ausgabe 11/2018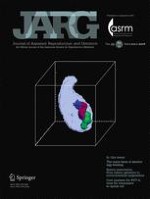 Sperm lipidic profiles differ significantly between ejaculates resulting in pregnancy or not following intracytoplasmic sperm injection
Zeitschrift:
Autoren:

Rocio Rivera-Egea, Nicolas Garrido, Nerea Sota, Marcos Meseguer, Jose Remohí, Francisco Dominguez
Wichtige Hinweise
Electronic supplementary material
Abstract
Although assisted reproduction techniques involve the use of semen samples, there is little scientific methodology applied when selecting sperm. To select the most appropriate spermatozoa, first we need to define the optimal molecular characteristics. Sperm lipids may contribute to sperm function, thus our aim was to compare the lipidic profiles of sperm samples used in intracytoplasmic sperm injection cycles that ultimately led to a pregnancy with those that did not.
Spermatozoa from infertile patients after intracytoplasmic sperm injection (group non-pregnant,
n
 = 16; vs. group pregnant,
n
 = 22) were analyzed for lipid composition using ultra-high performance liquid chromatography coupled to mass spectrometry, by means two platforms for measuring fatty acyls, bile-acids, lysoglycerophospholipids, glycerolipids, cholesteryl-esters, sphingolipids, and glycerophospholipids. Lipid levels were compared using a univariate test and multivariate analyses after logarithmic transformation.
We detected 151 different lipids in the sperm samples, 10 of which were significantly increased in sperm samples from the NP group, ranging from 1.10- to 1.30-fold change. These were primarily ceramides, sphingomyelins and three glycerophospholipids, a lysophosphatidylcholine, and two plasmalogen species. Additionally, 2-Monoacylglycerophosphocholine were also found in higher levels in non-pregnant group.
Our results describe the composition of sperm lipids linked to optimal sperm function, opening new possibilities for the development of male fertility diagnostic tools and culture media formulations to improve sperm quality and enhance reproductive results. Given that lipids compose the majority of the sperm plasma membrane, this information is also useful in designing new sperm selection tools that will allow for the selection of the best spermatozoa.