01.12.2018 | Research article | Ausgabe 1/2018 Open Access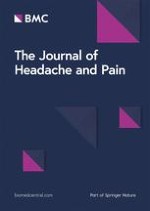 Sphenopalatine ganglion stimulation for cluster headache, results from a large, open-label European registry
Zeitschrift:
Autoren:

Mads Barloese, Anja Petersen, Philipp Stude, Tim Jürgens, Rigmor Højland Jensen, Arne May
Wichtige Hinweise
Electronic supplementary material
The data in this manuscript has previously been presented in abstract form at EHMTIC, Glasgow, 15–18 September, 2016 and will be presented in abstract form at INS, Edinburgh, May 27 – June 1, 2017.
Abstract
Background
Cluster headache (CH) is a disabling primary headache disorder characterized by severe periorbital pain. A subset of patients does not respond to established pharmacological therapy. This study examines outcomes of a cohort of mainly chronic CH patients treated with sphenopalatine ganglion (SPG) stimulation.
Methods
Patients were followed in an open-label prospective study for 12 months. Ninety-seven CH patients (88 chronic, 9 episodic) underwent trans-oral insertion of a microstimulator targeting the SPG. Patients recorded stimulation effect prospectively for individual attacks. Frequency, use of preventive and acute medications, headache impact (HIT-6) and quality of life measures (SF-36v2) were monitored at clinic visits. Per protocol, frequency responders experienced ≥ 50% reduction in attack frequency and acute responders treated ≥ 50% of attacks. HIT-6 responders experienced an improvement ≥ 2.3 units and SF-36 responders ≥ 4 units vs. baseline.
Results
Eighty-five patients (78 chronic, 7 episodic) remained implanted and were evaluated for effectiveness at 12 months. In total, 68% of all patients were responders, 55% of chronic patients were frequency responders and 32% of all patients were acute responders. 67% of patients using acute treatments were able to reduce the use of these by 52% and 74% of chronic patients were able to stop, reduce or remain off all preventive medications. 59% of all patients were HIT-6 responders, 67% were SF-36 responders.
Conclusions
This open-label registry corroborates that SPG stimulation is an effective therapy for CH patients providing therapeutic benefits and improvements in use of medication as well as headache impact and quality of life.