01.12.2018 | Research | Ausgabe 1/2018 Open Access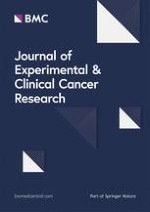 SPIN1, negatively regulated by miR-148/152, enhances Adriamycin resistance via upregulating drug metabolizing enzymes and transporter in breast cancer
Zeitschrift:
Autoren:

Xu Chen, Ya-Wen Wang, Peng Gao
Wichtige Hinweise
Electronic supplementary material
Abstract
Background
Spindlin1 (SPIN1), a protein highly expressed in several human cancers, has been correlated with tumorigenesis and development. Alterations of drug metabolizing enzymes and drug transporters are major determinants of chemoresistance in tumor cells. However, whether the metabolizing enzymes and transporters are under the control of SPIN1 in breast cancer chemoresistance has not yet been defined.
Methods
SPIN1 expression in breast cancer cells and tissues was detected by quantitative real-time PCR (qRT-PCR) and immunohistochemistry. Chemosensitivity assays in vitro and in vivo were performed to determine the effect of SPIN1 on Adriamycin resistance. Downstream effectors of SPIN1 were screened by microarray and confirmed by qRT-PCR and Western blot. Luciferase assay and Western blot were used to identify miRNAs regulating
SPIN1
.
Results
We showed that SPIN1 was significantly elevated in drug-resistant breast cancer cell lines and tissues, compared with the chemosensitive ones. SPIN1 enhanced Adriamycin resistance of breast cancer cells in vitro
,
and downregulation of SPIN1 by miRNA could decrease Adriamycin resistance in vivo. Mechanistically, drug metabolizing enzymes and transporter CYP2C8, UGT2B4, UGT2B17 and ABCB4 were proven to be downstream effectors of SPIN1. Notably,
SPIN1
was identified as a direct target of the miR-148/152 family (miR-148a-3p, miR-148b-3p and miR-152-3p). As expected, miR-148a-3p, miR-148b-3p or miR-152-3p could increase Adriamycin sensitivity in breast cancer cells in vitro. Moreover, high expression of
SPIN1
or low expression of the miR-148/152 family predicted poorer survival in breast cancer patients.
Conclusions
Our results establish that SPIN1, negatively regulated by the miR-148/152 family, enhances Adriamycin resistance in breast cancer via upregulating the expression of drug metabolizing enzymes and drug transporter.