01.01.2016 | Review | Ausgabe 1/2016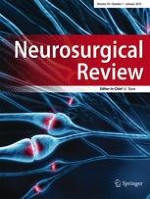 Spinal cord stimulation for Parkinson's disease: a systematic review
Zeitschrift:
Autoren:

Emerson Magno de Andrade, Maria Gabriela Ghilardi, Rubens Gisbert Cury, Egberto Reis Barbosa, Romulo Fuentes, Manoel Jacobsen Teixeira, Erich Talamoni Fonoff
Wichtige Hinweise
Comments
Tetsuya Goto, Matsumoto, Japan
The authors reviewed the effectiveness of spinal cord stimulation (SCS) against Parkinson's disease (PD). Although the SCS has been implanted for the purpose of the pain control, Parkinson's symptoms were improved in many of the patients. There is no doubt that the deep brain stimulation (DBS) for subthalamic nucleus or globus pallidus interna should be initially considered as the surgical treatment of PD. The indication of DBS is, however, still limited in: poor response of levodopa, psychiatric complications, axial symptoms, and severe brain atrophy. Because a surgical risk is higher than postoperative benefits in such situations. The SCS has a lower surgical risk compared with DBS because no needle insertion into the brain is needed. The intractable pain, painful dystonia, is one of the major complications in PD. The SCS may be applied more widely for intractable pain in PD.
Abstract
Axial symptoms are a late-developing phenomenon in the course of Parkinson's disease (PD) and represent a therapeutic challenge given their poor response to levodopa therapy and deep brain stimulation. Spinal cord stimulation (SCS) may be a new therapeutic approach for the alleviation of levodopa-resistant motor symptoms of PD. Our purpose was to systematically review the effectiveness of SCS for the treatment of motor symptoms of PD and to evaluate the technical and pathophysiological mechanisms that may influence the outcome efficacy of SCS. A comprehensive literature search was conducted using electronic databases for the period from January 1966 through April 2014. The methodology utilized in this work follows a review process derived from evidence-based systematic review and meta-analysis of randomized trials described in the PRISMA statement. Reports examining SCS for the treatment of PD are limited. Eight studies with a total of 24 patients were included in this review. The overall motor score of the Unified Parkinson's Disease Rating Scale in the on/off-stimulation condition remained unchanged in 6 patients and improved in 18 patients after SCS. SCS appears to yield positive results for PD symptoms, especially for impairments in gait function and postural stability. However, evidence is limited and long-term prospective studies will be required to identify the optimal candidates for SCS and the best parameters of stimulation and to fully characterize the effects of stimulation on motor and nonmotor symptoms of PD.