16.11.2016 | Original Paper | Ausgabe 2/2017 Open Access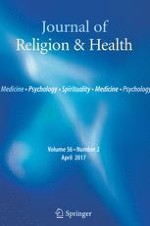 Spiritual Care Therapy on Quality of Life in Cancer Patients and Their Caregivers: A Prospective Non-randomized Single-Cohort Study
Zeitschrift:
Autoren:

A. Sankhe, K. Dalal, V. Agarwal, P. Sarve
Abstract
Spiritual care is still in infancy stage all over the globe including India. The present study was an original study evaluating the role of spiritual care in cancer patients and their primary caregivers regarding their spiritual and general well-being. The study was a prospective, non-randomized single-group study involving cancer patients undergoing surgery and their primary caregivers. Functional assessment of cancer therapy—general and functional assessment of chronic illness therapy-spiritual care was evaluated during the admission and at the time of discharge, two, four and 6 months following discharge from the hospital. Descriptive statistics was used for demographic details and repeated measure ANOVA with Dunn's test was used for analysis of changes in the scores. A total of 107 (63 males and 44 females) patients with a mean (SD) of age 51 (13) years were recruited in the study. Similarly, for each patient one of their primary caregivers was recruited with their mean (SD) age of 39.4 (12.7) years. A total of 11/107 (10.3%) patients died and nine out of 107 (8.4%) were lost to follow-up eventually during the study period. There was a statistically significant (
P
< 0.0001) increase in the scores at all the follow-up periods in both the patient and their relative groups. To conclude, we found out that spiritual care on the basis of MATCH guideline improved the level of not only spiritual well-being but general well-being also in both the patients and their primary caregivers. Control group could have improved scientific validity of study in accessing effect of spiritual care. Authors believe that more robust comparative study on each principle against all five MATCH principles in future will add scientific validity and clear the various ambiguities in spiritual care.