04.07.2016 | Concise Communication | Ausgabe 7/2016 Open Access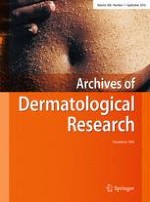 Spirituality and mood pathology in severe skin conditions: a prospective observational study
Zeitschrift:
Autoren:

Human-Friedrich Unterrainer, M. Lukanz, M. Pilch, S. Scharf, M. Glawischnig-Goschnik, N. Wutte, R. Fink-Puches, E. Aberer
Abstract
Although the association between spirituality and parameters of psychological health and disease has been investigated extensively, little evidence is available for its potential role in dermatology. In a single-centre observational prospective study, 149 outpatients (107 women) with systemic sclerosis (SSc;
n
= 44), lupus erythematosus (LE;
n
= 48), or early stage malignant melanoma (MM;
n
= 57) were investigated using the multidimensional inventory for religious/spiritual well-being together with the Brief Symptom Inventory for psychiatric symptoms (BSI-18). SSc patients reported the highest amount of Somatization in comparison with LE and MM patients (
p
< 0.05). Furthermore, in line with the previous research, spiritual dimensions, such as Hope for a better future (
p
< 0.01) or Hope for a better afterlife (
p
< 0.01), proved to be especially negatively predictive for the global amount of psychiatric symptom burden in these dermatological patient groups. Our findings suggest that greater attention should be given to spiritual issues, such as encouraging patients, imbuing them with optimism, and offering interventions that address spiritual well-being.