01.12.2014 | Research | Ausgabe 1/2014 Open Access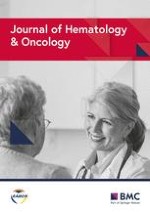 Splicing factor 3b subunit 1 (
Sf3b1

) haploinsufficient mice display features of low risk Myelodysplastic syndromes with ring sideroblasts
Zeitschrift:
Autoren:

Valeria Visconte, Ali Tabarroki, Li Zhang, Yvonne Parker, Edy Hasrouni, Reda Mahfouz, Kyoichi Isono, Haruhiko Koseki, Mikkael A Sekeres, Yogen Saunthararajah, John Barnard, Daniel Lindner, Heesun J Rogers, Ramon V Tiu
Wichtige Hinweise
Electronic supplementary material
The online version of this article (doi:
10.​1186/​s13045-014-0089-x
) contains supplementary material, which is available to authorized users.
Competing interests
The authors declare that they have no competing interests.
Authors' contributions
VV designed the study, performed the experiments, analyzed the data and wrote the manuscript; AT performed experiments and edited the manuscript; LZ performed statistical analysis; YP performed experiments and provided technical expertise; EH and RM performed experiments and edited the manuscript; KI and HK provided embryos of
Sf3b1
mice; MAS, and YS edited the manuscript; JB analyzed RNA-sequencing data; DL provided expertise on mouse model and edited the manuscript; HJR interpreted the data and edited the manuscript; RVT designed the study, analyzed the data, interpreted the results and wrote the manuscript. All authors read and approved the final manuscript.
Abstract
Background
The presence of somatic mutations in splicing factor 3b subunit 1 (
SF3B1
) in patients with Myelodysplastic syndromes with ring sideroblasts (MDS-RS) highlights the importance of the RNA-splicing machinery in MDS. We previously reported the presence of bone marrow (BM) RS in
Sf3b1
heterozygous (
Sf3b1
+/−
) mice which are rarely found in mouse models of MDS.
Sf3b1
+/−
mice were originally engineered to study the interaction between polycomb genes and other proteins.
Methods
We used routine blood tests and histopathologic analysis of BM, spleen, and liver to evaluate the hematologic and morphologic characteristics of
Sf3b1
+/−
mice in the context of MDS by comparing the long term follow-up (15 months) of
Sf3b1
+/−
and
Sf3b1
+/+
mice. We then performed a comprehensive RNA-sequencing analysis to evaluate the transcriptome of BM cells from
Sf3b1
+/−
and
Sf3b1
+/+
mice.
Results
Sf3b1
+/−
exhibited macrocytic anemia (MCV: 49.5 ± 1.6 vs 47.2 ± 1.4; Hgb: 5.5 ± 1.7 vs 7.2 ± 1.0) and thrombocytosis (PLTs: 911.4 ± 212.1 vs 878.4 ± 240.9) compared to
Sf3b1
+/+
mice. BM analysis showed dyserythropoiesis and occasional RS in
Sf3b1
+/−
mice. The splenic architecture showed increased megakaryocytes with hyperchromatic nuclei, and evidence of extramedullary hematopoiesis. RNA-sequencing showed higher expression of a gene set containing
Jak2
in
Sf3b1
+/−
compared to
Sf3b1
+/+
.
Conclusions
Our study indicates that
Sf3b1
+/−
mice manifest features of low risk MDS-RS and may be relevant for preclinical therapeutic studies.