01.12.2016 | Case report | Ausgabe 1/2016 Open Access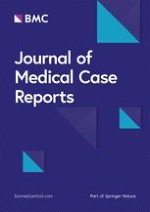 Spontaneous cerebrospinal fluid leak of the sphenoid sinus mimicking allergic rhinitis, and managed successfully by a ventriculoperitoneal shunt: a case report
Zeitschrift:
Autoren:

Youssef Darouassi, Mohamed Mliha Touati, Mehdi Chihani, Ali Akhaddar, Haddou Ammar, Brahim Bouaity
Abstract
Background
Spontaneous cerebrospinal fluid leaks are rare but may lead to confusion with other diseases in patients without history of trauma. We report a rare case unusual for two reasons. First, our patient was put under antiallergic medication for months before the diagnosis of spontaneous cerebrospinal fluid leak of the sphenoid sinus. Second, our patient was managed successfully by a ventriculoperitoneal shunt.
Case presentation
Our patient was a nonobese 49-year-old Arab man without history of trauma or surgery who presented with rhinorrhea. He was given allergic rhinitis medication for 4 months without improvement. After the onset of headache leading to the suspicion of paranasal sinusitis, a computed tomography scan discovered an osteodural defect in the sphenoid sinus roof and a magnetic resonance imaging scan showed an aspect of empty sella with an arachnoidocele. An eye fundus examination found papilledema suggesting the diagnosis of idiopathic intracranial hypertension. We performed a ventriculoperitoneal shunt without repair of the osteodural defect. Because of the favorable evolution, we decided to postpone surgery.
Conclusions
Spontaneous cerebrospinal fluid leak should be considered even in nonobese male patients without history of trauma. Our observation adds to other case reports suggesting the decrease of cerebrospinal fluid pressure alone as an option for the treatment of spontaneous cerebrospinal fluid leaks. Additional studies are necessary to clarify the indications.