01.12.2011 | Case report | Ausgabe 1/2011 Open Access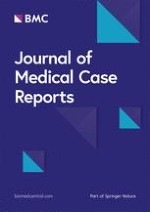 Spontaneous pneumothorax from cryptococcal pneumonia in systemic sclerosis: a case report
Zeitschrift:
Autoren:

Kwanreuthai Sripavatakul, Chingching Foocharoen
Wichtige Hinweise
Electronic supplementary material
The online version of this article (doi:
10.​1186/​1752-1947-5-309
) contains supplementary material, which is available to authorized users.
Competing interests
The authors declare that they have no competing interests.
Authors' contributions
All authors reviewed and approved the final manuscript.
Introduction
Systemic sclerosis (SSC) is a rare systemic disease with the classic clinical characteristic of skin tightness. The disease is classified into two major types: limited cutaneous SSC (lcSSC) and diffuse cutaneous SSC (dcSSC). In lcSSC, the skin on the face, neck and below the elbows and knees thickens, while in dcSSC the thickening extends to the trunk, arms and thighs.
Internal organ involvement, particularly pulmonary, is also found in the disease. Pulmonary complications include pulmonary fibrosis, pulmonary arterial hypertension and lung cancer. Most pulmonary fibrosis is found in cases of dcSSC [
1
]; however, it also occurs in lcSSC [
1
].
Spontaneous pneumothorax, related to the underlying pulmonary fibrosis--particularly lung cyst or bleb, has been reported as a rare complication of SSC [
2
,
3
]. There are, however, no reports of spontaneous pneumothorax in SSC, as related to pulmonary infection. We present a case of underlying lcSSC in a patient who developed spontaneous pneumothorax related to cryptococcal pneumonia.
Case report
A 49-year-old Thai male was diagnosed with lcSSC according to the 1980 criteria of the American Rheumatism Association [
4
]. His first presenting symptoms included sclerodactyly, symmetrical polyarthralgia, digital pitting scar and Raynaud's phenomenon without any chest symptoms.
Four years after diagnosis, our patient developed dyspnea on exertion. The dyspnea worsened in the following two years so further investigations were performed. His chest radiograph revealed interstitial infiltration in both lower lung zones and prominent pulmonary trunk (Figure
1
). Pulmonary function showed a restrictive pattern; with a forced vital capacity (FVC) of 53%, and forced expiratory volume in one second/forced vital capacity (FEV1/FVC) of 105%. High resolution computer tomography (HRCT) of the chest presented minimal thickening of the interlobular septa with thickening of the pleura and mild bronchiectasis in both lower lungs (Figure
2
). An echocardiogram detected mild concentric left ventricular hypertrophy without pulmonary arterial hypertension.
×
×
Since our patient's symptoms had worsened, the attending physician prescribed oral daily cyclophosphamide (100 mg per day) plus prednisolone (10 mg per day). Within three months, the clinical symptoms improved; however, the follow-up FVC was minimally decreased with an FVC of 45% and an FEV1/FVC of 90%. Cyclophosphamide was stopped after one year of treatment and the steroid tapered off during follow-up.
One year after stopping the cyclophosphamide--but while still on the prednisolone--the symptoms of dyspnea upon exertion returned. A radiograph and HRCT of the chest were therefore repeated to ascertain the cause of dyspnea. We observed increased thickening of the interlobular septa with sub-pleural emphysema and tubular bronchiectasis of his right lower lung (Figures
3
and
4
). Supportive treatment with low-flow oxygen therapy and breathing exercises were prescribed because of the chronic pulmonary fibrosis.
×
×
Our patient was admitted because of a low-grade fever with pleuritic chest pain, progressive shortness of breath, and a productive cough of five days duration. On physical examination, he had tachypnea (28 breaths/minute) and a body temperature of 38.2°C. A lung examination revealed decreased breath sounds and vocal resonance of his right lung with a midline trachea position. The oxygen saturation of the room air at admission was 92%.
A complete blood count indicated a hemoglobin level of 14.2 g/dL, white blood cell count of 8,800 cells/mm
3
, and a platelet count of 247,000 cells/mm
3
. A chest radiograph revealed pneumothorax of his right lung (Figure
5
).
×
Cloudy yellow-colored fluid was found after a chest tube was inserted. The exudative profile of the pleural fluid included red blood cell count 890 cells/mm
3
and white blood cell count 1,890 cells/mm
3
(polymorphonuclear cells 64%, eosinophils 30% and lymphocytes 6%). Indian ink, Gram stain and acid-fast stain of the pleural fluid and sputum were negative; however, the pleural fluid was positive for cryptococcal antigen. The respective culture of the pleural fluid and serum was positive for
Cryptococcus neoformans
, while the cerebrospinal fluid was negative.
Due to desaturation and large air leakage, oxygen supplementation and drainage of his chest were performed immediately. Oral fluconazole (400 mg per day) was prescribed after the presence of Cryptococcus was confirmed (three days after pneumothorax) and continued for six months. The fever, pleuritic chest pain and cough symptoms improved and the lung was re-expanded the third day after chest tube insertion without any complications. The oxygen line was removed seven days after treatment. A chest radiograph indicated improvement of pulmonary infiltration two weeks after treatment (Figure
6
). Four weeks after treatment the serum cryptococcal antigen test and hemoculture for
Cryptococci
were negative. No recurrent pneumothorax was detected after anti-fungal therapy was discontinued.
×
Discussion
Our patient had pre-existing pulmonary fibrosis related to his underlying SSC. A HRCT chest scan revealed only sub-pleural emphysema and he developed spontaneous pneumothorax after pulmonary infection. We conclude that, even though sub-pleural blebs occur in SSC in association with spontaneous pneumothorax, infection can exacerbate symptoms in patients with sub-pleural emphysema, thereby triggering spontaneous pneumothorax.
In contrast to previous reports, our patient had full lung re-expansion within three days of chest tube insertion and anti-fungal therapy. The rapid recovery of the lung after re-expansion might be related to early anti-fungal treatment and early chest tube drainage. The prognosis of lung re-expansion in SSP due to infection might be better than pneumothorax due to ruptured sub-pleural bleb in a patient with underlying SSC.
Conclusions
Infection can exacerbate symptoms in a patient with systemic sclerosis with sub-pleural emphysema, thereby triggering spontaneous pneumothorax, even when minimal sub-pleural emphysema is detected. Pleural fluid--present but not initially seen because of the pneumothorax--could be a clue to a pre-existing pulmonary infection.
Consent
Written informed consent was obtained from our patient for the publication of this case report and any accompanying images. A copy of the written consent is available for review by the Editor-in-Chief of this journal.
Acknowledgements
The authors thank the Department of Medicine and the Faculty of Medicine for their support on the approval of this manuscript, and Mr Bryan Roderick Hamman and Mrs Janice Loewen-Hamman for assistance with the English-language presentation of the manuscript. Our patient was admitted under the care of a rheumatologist and was followed up in an out-patient scleroderma clinic.
This article is published under license to BioMed Central Ltd. This is an Open Access article distributed under the terms of the Creative Commons Attribution License (
http://​creativecommons.​org/​licenses/​by/​2.​0
), which permits unrestricted use, distribution, and reproduction in any medium, provided the original work is properly cited.
Competing interests
The authors declare that they have no competing interests.
Authors' contributions
All authors reviewed and approved the final manuscript.