01.12.2018 | Case report | Ausgabe 1/2018 Open Access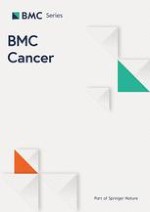 Spontaneous renal hemorrhage secondary to choriocarcinoma in a man with congenital hypospadias and cryptorchidism: a case report and literature review
Zeitschrift:
Autoren:

Yi Li, Gang Chen, Han Chen, Shuang Wen, Chao-yu Xiong, Zi-yi Yang, Yun-xiao Zhu, Nathan Jeffreys
Abstract
Background
Choriocarcinoma is a rare malignant germ-cell tumour, most commonly found in adult women. It infrequently presents as spontaneous renal haemorrhage (SRH). Genital malformation and SRH secondary to choriocarcinoma has previously been only reported in females. We present what we believe to be the first case of a male patient with genital malformation (hypospadias and cryptorchidism) and SRH at presentation of choriocarcinoma.
Case presentation
A 25-year-old man presented to the department with intense pain in the right flank region and lower back. Initial investigations showed spontaneous renal haemorrhage, for which an emergency partial nephrectomy was performed. Clinical, radiological, and pathological investigations suggested a diagnosis of testicular choriocarcinoma with metastases to the right kidney, both lungs, and brain. Initial treatment was with a chemotherapy regimen of cisplatin, etoposide and bleomycin and whole brain radiotherapy; however, 6 months after diagnosis the patient developed liver metastasis, after which time the BEP protocol was switched to ITP with oral apatinib. Despite best efforts, the liver and lung metastasis continued to grow and a decision was made to discontinue active treatment and provide only palliative care until the patient passed away.
Conclusion
Choriocarcinoma is a difficult cancer to diagnose pre-operatively. In male patients with early metastasis, prognosis may be much poorer than in the commoner gestational choriocarcinoma. A multidisciplinary with comprehensive post-surgical intervention is of great importance in the treatment of these patients.