01.12.2017 | Case Report | Ausgabe 1/2017 Open Access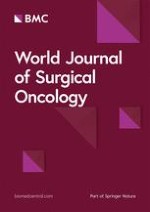 Squamous cell carcinoma arising from chronic sacrococcygeal pilonidal disease: a case report
Zeitschrift:
Autoren:

Nick Michalopoulos, Konstantinos Sapalidis, Styliani Laskou, Evangelia Triantafyllou, Georgia Raptou, Isaak Kesisoglou
Abstract
Background
Sacrococcygeal pilonidal disease is a chronic, well-recognized entity, characterized by the recurrent formation of an abscess or draining sinus over the sacrococcygeal area. It is one of the most common surgical problems. Rarely, chronic inflammation and recurrent disease leads to malignant transformation, most commonly to squamous cell carcinoma (SCC).
Case presentation
We describe an extremely unusual case of SCC developing in a 60-year-old patient with a chronic pilonidal sinus complicated by an anal fistula. After wide surgical excision of the pilonidal sinus and fistulas and because of the poor healing process 6 months later, colonoscopy and a percutaneous fistulography were performed, revealing an anal canal-pilonidal fistula. Patient was treated with a more radical surgical resection with a prophylactic loop colostomy, but healing was not accelerated. Multiple biopsies were then taken from the surgical site at the time, which revealed the development of SCC. CT and MRI imaging techniques revealed SCC partial invasion of the coccyx and sacrum. As a result, aggressive surgical approach was decided. Histological examination revealed moderately to poorly differentiated SCC, and the patient was treated with adjuvant radiation therapy postoperatively. Nine months later, recurrence was found in the sacrum and para-aorta lymph nodes and the patient died shortly after. We discuss the clinical features, pathogenesis, treatment options, and prognosis of this rare malignant transformation.
Conclusions
The development of SCC in chronic pilonidal disease is a rare but serious complication. Symptoms are usually attributed to the sacrococcygeal pilonidal disease (SPD), and diagnosis is often made late by histological examination of biopsies. Malignant transformation should be suspected in chronic SPD with recurrent episodes of inflammation, repeated purulent discharge, poor healing, and chronic complex fistulas.