23.07.2019 | Ausgabe 5/2019 Open Access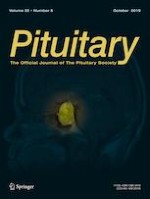 Staging and managing patients with acromegaly in clinical practice: baseline data from the SAGIT® validation study
Zeitschrift:
Autoren:

Andrea Giustina, Marcello D. Bronstein, Philippe Chanson, Stephan Petersenn, Felipe F. Casanueva, Caroline Sert, Aude Houchard, Shlomo Melmed
Wichtige Hinweise
Electronic supplementary material
The data in this manuscript were presented as abstracts at the Endocrine Society Congress 2019 and the 21st European Congress of Endocrinology 2019.
Publisher's Note
Springer Nature remains neutral with regard to jurisdictional claims in published maps and institutional affiliations.
Abstract
Purpose
The SAGIT® instrument, designed to assist clinicians to stage acromegaly, assess treatment response and adapt patient management, was well received by endocrinologists in a pilot study. We report an interim analysis of baseline data from the validation phase.
Methods
The SAGIT® validation study (ClinicalTrials.gov NCT02539927) is an international, non-interventional study. Data collection included: demographic/disease characteristics; medical/surgical histories; concomitant acromegaly treatments; investigators' subjective evaluation of disease-control status (clinical global evaluation of disease control [CGE-DC]; controlled/not controlled/yet to be clarified) and clinical disease activity (active/not active); growth hormone (GH) and insulin-like growth factor-1 (IGF-1) levels; investigators' therapeutic decision.
Results
Of 228 patients enrolled, investigators considered disease to be controlled in 110 (48.2%), not controlled in 105 (46.1%), and yet to be clarified in 13 (5.7%) according to CGE-DC. Thirty-three patients were treatment-naïve (not controlled,
n
 = 31; yet to be clarified,
n
 = 2). Investigators considered 48.2% patients in the controlled and 95.2% in the not-controlled groups to have clinically active disease. In the controlled group, 29.7% of patients did not exhibit hormonal control (GH ≤ 2.5 µg/L; normalized IGF-1) and 47.3% did not have rigorous hormonal control (GH < 1.0 µg/L; normalized IGF-1) by contemporary consensus. Current acromegaly treatment was continued with no change for 91.8% of patients in the controlled and 40.0% in the not-controlled groups.
Conclusions
These data highlight discrepancies between investigator-evaluated disease-control status, disease activity, hormonal control, and treatment decisions in acromegaly. Once validated, the SAGIT® instrument may assist clinicians in making active management decisions for patients with acromegaly.