01.06.2014 | Original Article | Ausgabe 6/2014 Open Access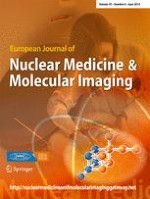 Staging the axilla in breast cancer patients with 18F-FDG PET: how small are the metastases that we can detect with new generation clinical PET systems?
Autoren:

Dimitri Bellevre, Cécile Blanc Fournier, Odile Switsers, Audrey Emmanuelle Dugué, Christelle Levy, Djelila Allouache, Cédric Desmonts, Hubert Crouet, Jean-Marc Guilloit, Jean-Michel Grellard, Nicolas Aide
Wichtige Hinweise
Electronic supplementary material
The online version of this article (doi:
10.​1007/​s00259-014-2689-7
) contains supplementary material, which is available to authorized users.
Abstract
Purpose
Point spread function (PSF) reconstruction improves spatial resolution throughout the entire field of view of a PET system and can detect smaller metastatic deposits than conventional algorithms such as OSEM. We assessed the impact of PSF reconstruction on quantitative values and diagnostic accuracy for axillary staging of breast cancer patients, compared with an OSEM reconstruction, with emphasis on the size of nodal metastases.
Methods
This was a prospective study in a single referral centre in which 50 patients underwent an 18F-FDG PET examination before axillary lymph node dissection. PET data were reconstructed with an OSEM algorithm and PSF reconstruction, analysed blindly and validated by a pathologist who measured the largest nodal metastasis per axilla. This size was used to evaluate PET diagnostic performance.
Results
On pathology, 34 patients (68 %) had nodal involvement. Overall, the median size of the largest nodal metastasis per axilla was 7 mm (range 0.5 – 40 mm). PSF reconstruction detected more involved nodes than OSEM reconstruction (
p
 = 0.003). The mean PSF to OSEM SUV
max
ratio was 1.66 (95 % CI 1.01 – 2.32). The sensitivities of PSF and OSEM reconstructions were, respectively, 96 % and 92 % in patients with a largest nodal metastasis of >7 mm, 60 % and 40 % in patients with a largest nodal metastasis of ≤7 mm, and 92 % and 69 % in patients with a primary tumour ≤30 mm. Biggerstaff graphical comparison showed that globally PSF reconstruction was superior to OSEM reconstruction. The median sizes of the largest nodal metastasis in patients with nodal involvement not detected by either PSF or OSEM reconstruction, detected by PSF but not by OSEM reconstruction and detected by both reconstructions were 3, 6 and 16 mm (
p
 = 0.0064) respectively. In patients with nodal involvement detected by PSF reconstruction but not by OSEM reconstruction, the smallest detectable metastasis was 1.8 mm.
Conclusion
As a result of better activity recovery, PET with PSF reconstruction performed better than PET with OSEM reconstruction in detecting nodal metastases ≤7 mm. However, its sensitivity is still insufficient for it to replace surgical approaches for axillary staging. PET with PSF reconstruction could be used to perform sentinel node biopsy more safely in patients with a primary tumour ≤30 mm and with unremarkable PET results in the axilla.