01.12.2012 | Methodology | Ausgabe 1/2012 Open Access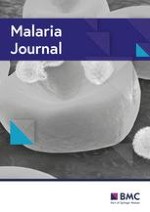 Standardization and validation of a cytometric bead assay to assess antibodies to multiple
Plasmodium falciparum

recombinant antigens
Zeitschrift:
Autoren:

Bartholomew N Ondigo, Gregory S Park, Severin O Gose, Benjamin M Ho, Lyticia A Ochola, George O Ayodo, Ayub V Ofulla, Chandy C John
Wichtige Hinweise
Electronic supplementary material
The online version of this article (doi:
10.​1186/​1475-2875-11-427
) contains supplementary material, which is available to authorized users.
Competing interest
The authors declare that no competing interests exist. The director of Kenya Medical Research Institute approved this article for publication.
Authors' contributions
BNO helped in the design aspects of the study, validated and performed assays, literature search, data analysis, drafting of the manuscript and transferring technology to field laboratory. SOG and BMH validated and performed assays and data acquisition. GSP assisted in data acquisition, helped in the design aspects of the study and intellectual content of the manuscript. GAA, LAO and AVO provided intellectual input and revision of the manuscript. CCJ conceived the idea and led the study design, implementation of the program and drafting of the manuscript and editing and review of the manuscript. All authors read and approved the final manuscript.
Abstract
Background
Multiplex cytometric bead assay (CBA) have a number of advantages over ELISA for antibody testing, but little information is available on standardization and validation of antibody CBA to multiple
Plasmodium falciparum
antigens. The present study was set to determine optimal parameters for multiplex testing of antibodies to
P. falciparum
antigens, and to compare results of multiplex CBA to ELISA.
Methods
Antibodies to ten recombinant
P. falciparum
antigens were measured by CBA and ELISA in samples from 30 individuals from a malaria endemic area of Kenya and compared to known positive and negative control plasma samples. Optimal antigen amounts, monoplex
vs
multiplex testing, plasma dilution, optimal buffer, number of beads required were assessed for CBA testing, and results from CBA vs. ELISA testing were compared.
Results
Optimal amounts for CBA antibody testing differed according to antigen. Results for monoplex CBA testing correlated strongly with multiplex testing for all antigens (
r
 = 0.88-0.99,
P
values from <0.0001 - 0.004), and antibodies to variants of the same antigen were accurately distinguished within a multiplex reaction. Plasma dilutions of 1:100 or 1:200 were optimal for all antigens for CBA testing. Plasma diluted in a buffer containing 0.05% sodium azide, 0.5% polyvinylalcohol, and 0.8% polyvinylpyrrolidone had the lowest background activity. CBA median fluorescence intensity (MFI) values with 1,000 antigen-conjugated beads/well did not differ significantly from MFI with 5,000 beads/well. CBA and ELISA results correlated well for all antigens except apical membrane antigen-1 (AMA-1). CBA testing produced a greater range of values in samples from malaria endemic areas and less background reactivity for blank samples than ELISA.
Conclusion
With optimization, CBA may be the preferred method of testing for antibodies to
P. falciparum
antigens, as CBA can test for antibodies to multiple recombinant antigens from a single plasma sample and produces a greater range of values in positive samples and lower background readings for blank samples than ELISA.