01.12.2018 | Research | Ausgabe 1/2018 Open Access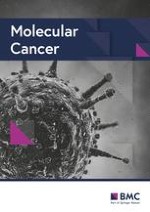 STAT3-induced lncRNA HAGLROS overexpression contributes to the malignant progression of gastric cancer cells via mTOR signal-mediated inhibition of autophagy
Zeitschrift:
Autoren:

Jin-Fei Chen, Peng Wu, Rui Xia, Jian Yang, Xin-Ying Huo, Dong-Ying Gu, Cui-Ju Tang, Wei De, Fen Yang
Wichtige Hinweise
Electronic supplementary material
Abstract
Background
Long noncoding RNAs (lncRNAs) are an important class of functional regulators involved in human cancers development, including gastric cancer (GC). Studying aberrantly expressed lncRNAs may provide us with new insights into the occurrence and development of gastric cancer by acting as oncogenes or tumor suppressors. In this study, we aim to examine the expression pattern of lncRNA HAGLROS in GC and its clinical significance as well as its biological role in tumor progression.
Methods
Bioinformatics analysis and qRT-PCR were performed to detect the relative expression of HAGLROS in GC tissues and cell lines. Gain or loss of function approaches were used to investigate the biological functions of HAGLROS. The effect of HAGLROS on proliferation was evaluated by MTT, colony formation assay and nude mouse xenograft model. Wound healing and Transwell assays were used to study the invasion and migration of GC cells. FISH, RIP, RNA-seq, Luciferase report assays, RNA pulldown and Western blot were fulfilled to measure molecular mechanisms. Results are shown as means ± S.D. and differences were tested for significance using Student's t-test (two-tailed).
Results
We screened out HAGLROS, whose expression was significantly increased and correlated with outcomes of GC patients by publicly available lncRNAs expression profiling and integrating analyses. Exogenous down-regulation of HAGLROS expression significantly suppressed the cell proliferation, invasion and migration. Mechanistic investigations showed that HAGLROS was a direct target of transcriptional factor STAT3. Moreover, HAGLROS knockdown decreased mTOR expression and increased autophagy-related genes ATG9A and ATG9B expression. Further investigation showed that HAGLROS regulated mTOR signals in two manners. In the one hand, HAGLROS competitively sponged miR-100-5p to increase mTOR expression by antagonizing miR-100-5p-mediated mTOR mRNA inhibition. On the other hand, HAGLROS interacted with mTORC1 components to activate mTORC1 signaling pathway which was known to be an important negative signal of autophagy. Here activation of mTORC1 signaling pathway by HAGLROS inhibited autophagy, thereby promoted excessive proliferation and maintained the malignant phenotype of GC cells.
Conclusion
The present study demonstrates that HAGLROS overexpression contributes to GC development and poor prognosis and will be a target for GC therapy and further develop as a potential prognostic biomarker.