01.05.2009 | Research | Ausgabe 1/2009 Open Access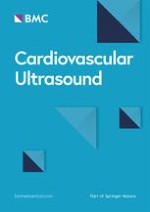 State diagrams of the heart – a new approach to describing cardiac mechanics
Zeitschrift:
Autoren:

Matilda Larsson, Anna Bjällmark, Jonas Johnson, Reidar Winter, Lars-Åke Brodin, Stig Lundbäck
Wichtige Hinweise
Electronic supplementary material
The online version of this article (doi:
10.​1186/​1476-7120-7-22
) contains supplementary material, which is available to authorized users.
Competing interests
Potential conflicts of interest are as follows: JJ is on the board in GrippingHeart AB and his Ph.D work is partly founded by GrippingHeart AB. SL partly owns GrippingHeart AB.
Authors' contributions
ML, AB, JJ, SL and LÅB participated in contributions to conception, analysis and interpretation of data. ML, AB and JJ contributed with the programming work. ML and AB wrote the manuscript, critically reviewed by JJ and SL. RW was the supervisor of echo examinations and reviewed the manuscript for relevant intellectual content. All authors read and approved the final manuscript.
Abstract
Background
Cardiac time intervals have been described as a measure of cardiac performance, where prolongation, shortening and delay of the different time intervals have been evaluated as markers of cardiac dysfunction. A relatively recently developed method with improved ability to measure cardiac events is Tissue Doppler Imaging (TDI), allowing accurate measurement of myocardial movements.
Methods
We propose the state diagram of the heart as a new visualization tool for cardiac time intervals, presenting comparative, normalized data of systolic and diastolic performance, providing a more complete overview of cardiac function. This study aimed to test the feasibility of the state diagram method by presenting examples demonstrating its potential use in the clinical setting and by performing a clinical study, which included a comparison of the state diagram method with established echocardiography methods (E/E' ratio, LVEF and WMSI). The population in the clinical study consisted of seven patients with non ST-elevation myocardial infarction (NSTEMI) and seven control subjects, individually matched according to age and gender. The state diagram of the heart was generated from TDI curves from seven positions in the myocardium, visualizing the inter- and intraventricular function of the heart by displaying the cardiac phases.
Results
The clinical examples demonstrated that the state diagram allows for an intuitive visualization of pathological patterns as ischemia and dyssynchrony. Further, significant differences in percentage duration between the control group and the NSTEMI group were found in eight of the totally twenty phases (10 phases for each ventricle), e.g. in the transition phases (Pre-Ejection and Post-Ejection). These phases were significantly longer (> 2.18%) for the NSTEMI group than for the control group (p < 0.05). No significant differences between the groups were found for the established echocardiography methods.
Conclusion
The test results clearly indicate that the state diagram has potential to be an efficient tool for visualization of cardiac dysfunction and for detection of NSTEMI.