25.06.2020 | Statine | FORTBILDUNG | Sonderheft 2/2020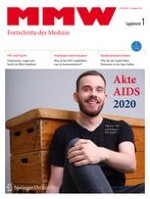 HIV-Infektion und Lipidentgleisung — Gründe und Gegenmaßnahmen
Kardiovaskuläre Erkrankungen
Zeitschrift:
Autoren:

Dr. med. Tim Hollstein, Friederike Schumann, Dr. med. Ursula Kassner
zum Fragebogen im Kurs
Wichtige Hinweise
This article is part of a supplement not sponsored by the industry.
Interessenkonflikt
Die Autoren erklären, dass sie sich bei der Erstellung des Beitrages von keinen wirtschaftlichen Interessen leiten ließen. Sie legen folgende potenzielle Interessenkonflikte offen: ..... (z.B. keine) Der Verlag erklärt, dass die inhaltliche Qualität des Beitrags von zwei unabhängigen Gutachtern geprüft wurde. Werbung in dieser Zeitschriftenausgabe hat keinen Bezug zur CME-Fortbildung. Der Verlag garantiert, dass die CME-Fortbildung sowie die CME-Fragen frei sind von werblichen Aussagen und keinerlei Produktempfehlungen enthalten. Dies gilt insbesondere für Präparate, die zur Therapie des dargestellten Krankheitsbildes geeignet sind.
Die Infektion mit dem Humanen Immundefizienz-Virus (HIV) führt zu einer bedeutenden Erhöhung des kardiovaskulären Risikos. Im folgenden CME-Kurs erfahren Sie, warum das so ist, und welche therapeutischen Maßnahmen erforderlich sind, um HIV-Patienten möglichst optimal vor kardiovaskulären Ereignissen zu schützen.