01.12.2008 | Research article | Ausgabe 1/2008 Open Access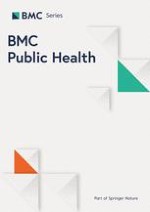 Status and perspectives of hospital mortality in a public urban Hellenic hospital, based on a five-year review
Zeitschrift:
Autoren:

Iordanis N Papadopoulos, Maria Papaefthymiou, Leonidas Roumeliotis, Vasilios G Panagopoulos, Anna Stefanidou, Anastasia Kostaki
Wichtige Hinweise
Electronic supplementary material
The online version of this article (doi:
10.​1186/​1471-2458-8-28
) contains supplementary material, which is available to authorized users.
Competing interests
The author(s) declare that they have no competing interests.
Authors' contributions
Concept and design of the study: INP
Data extraction and management: VGP, AS, AK
Coding causes of death: MP, LR, INP, VGP
Statistical analysis: AK, AS, INP
Drafting, writing the paper and interpretation: INP, LR, MP.
All authors have read and approved the final version of the manuscript.
Abstract
Background
Analysis of hospital mortality helps to assess the standards of health-care delivery.
Methods
This is a retrospective cohort study evaluating the causes of deaths which occurred during the years 1995–1999 in a single hospital. The causes of death were classified according to the International Statistical Classification of Diseases (ICD-10).
Results
Of the 149,896 patients who were discharged the 5836 (3.4%) died. Males constituted 55% and females 45%. The median age was 75.1 years (1 day – 100 years).
The seven most common ICD-10 chapters IX, II, IV, XI, XX, X, XIV included 92% of the total 5836 deaths.
The most common contributors of non-neoplasmatic causes of death were cerebrovascular diseases (I60–I69) at 15.8%, ischemic heart disease (I20–I25) at 10.3%, cardiac failure (I50.0–I50.9) at 7.9%, diseases of the digestive system (K00–K93) at 6.7%, diabetes mellitus (E10–E14) at 6.6%, external causes of morbidity and mortality (V01–Y98) at 6.2%, renal failure (N17–N19) at 4.5%, influenza and pneumonia (J10–J18) at 4.1% and certain infectious and parasitic diseases (A00–B99) at 3.2%, accounting for 65.3% of the total 5836 deaths.
Neoplasms (C00–D48) caused 17.7% (n = 1027) of the total 5836 deaths, with leading forms being the malignant neoplasms of bronchus and lung (C34) at 3.5% and the malignant neoplasms of large intestine (C18–21.2) at 1.5%. The highest death rates occurred in the intensive care unit (23.3%), general medicine (10.7%), cardiology (6.5%) and nephrology (5.5%).
Key problems related to certification of death were identified. Nearly half of the deaths (49.3%: n = 2879) occurred by the completion of the third day, which indicates the time limits for investigation and treatment. On the other hand, 6% (n = 356) died between the 29th and 262nd days after admission.
Inadequacies of the emergency care service, infection control, medical oncology, rehabilitation, chronic and terminal care facilities, as well as lack of regional targets for reducing mortality related to diabetes, recruitment of organ donors, provision for the aging population and lack of prevention programs were substantiated.
Conclusion
Several important issues were raised. Disease specific characteristics, as well as functional and infrastructural inadequacies were identified and provided evidence for defining priorities and strategies for improving the standards of care. Effective transformation can promise better prospects.