01.12.2018 | Research | Ausgabe 1/2018 Open Access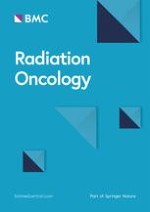 Stereotactic body radiotherapy for central lung tumors, yes we can!
Zeitschrift:
Autoren:

Yasmin Korzets ceder, Eyal Fenig, Aron Popvtzer, Nir Peled, Mordechai R. Kramer, Milton Saute, Dima Bragilovsky, Tzippy Schochat, Aaron M. Allen
Abstract
Background
SBRT is standard therapy for early stage lung cancer. Toxicity in central tumors has been a concern. RTOG 0813 showed that central SBRT is safe and effective. We report our experience with central SBRT.
Methods
We reviewed the records of patients treated with SBRT for central lung tumors (< 2 cm of the carina). Patients included primary lung cancer and recurrence following surgery and\ or conventional radiotherapy. All patients underwent 4DCT simulation and treatment planning was done with IMRT or VMAT techniques. Dose to the PTV was prescribed to the 95% isodose line.
Results
Seventy patients, between 5/09 and 4/13, were treated. Patients had early non-small cell lung cancer (
n
= 13) or locally recurrent lung cancer (
n
= 29) and pulmonary oligometastases (
n
= 28). Fifty-seven percent of the patients received BED of 132 with a schedule of 60Gy in 12 Gy fractions. Median follow up time was 18.3 months, 4/70 patients experienced local failure (6%). Median OS for the whole cohort was 4.6 years (CI 3-7 years). Ten patients had grade 1-2 radiation pneumonitis. One patient developed fatal bronchial bleeding.
Conclusions
SBRT for central tumors is safe and effective in patients with central disease, reiradiation, recurrence following surgery and in oligometastes.