01.12.2018 | Research | Ausgabe 1/2018 Open Access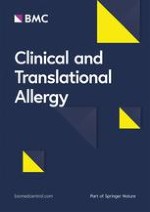 Stevens–Johnson syndrome/toxic epidermal necrolysis and erythema multiforme drug-related hospitalisations in a national administrative database
Zeitschrift:
Autoren:

Bernardo Sousa-Pinto, Luís Araújo, Alberto Freitas, Osvaldo Correia, Luís Delgado
Wichtige Hinweise
Electronic supplementary material
Abstract
Background
Stevens–Johnson syndrome/toxic epidermal necrolysis (SJS/TEN) and erythema multiforme (EM) are immunologically-mediated dermatological disorders commonly triggered by drug exposure and/or other external agents. We aimed to characterise SJS/TEN- and EM-drug-related hospitalisations in a nationwide administrative database, focusing on demographic and clinical characteristics, and in the most frequently implicated drug classes.
Methods
We analysed all drug-related hospitalisations with associated diagnosis of SJS/TEN or EM in Portuguese hospitals between 2009 and 2014. We compared gender, age, comorbidities, length of stay, and in-hospital mortality and estimated the number of episodes per million packages sold of drug classes. Predictors of in-hospital mortality were investigated in both conditions by logistic regression.
Results
There were 132 SJS/TEN-related and 122 EM-related hospitalisations. Incidence and in-hospital mortality of SJS/TEN episodes (24.2%) were consistent with previous studies. HIV co-infection was more common among SJS/TEN hospitalisations (9 vs. 2% with EM;
P
= 0.009). Liver disease, advanced age, and a TEN diagnosis, were significantly associated with higher risk of mortality in patients with SJS/TEN. The highest numbers of SJS/TEN and EM episodes per million drug packages sold were observed for antivirals (8.7 and 1.5, respectively), antineoplastic/immunosuppressive drugs (5.6 and 3.9, respectively) and hypouricaemic drugs (5.0 and 2.4, respectively).
Conclusions
SJS/TEN in-hospital mortality is high, and its risk factors include advanced age, liver disease, and TEN diagnosis. The drug classes most frequently associated with these conditions include antivirals, hypouricaemic drugs and antineoplastic/immunosuppressive drugs. Administrative databases seem useful in the study of SJS/TEN drug-related hospitalisations, yielding results consistent with previous studies and on a nationwide basis.