30.03.2020 | Störungen durch Cannabinoide | FORTBILDUNG | Sonderheft 1/2020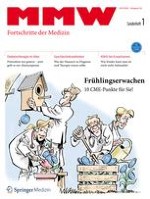 ADHS im Erwachsenenalter
Neurologie
Zeitschrift:
Autoren:

Dr. med. Kristina Adorjan, Prof. Dr. med. Oliver Pogarell
Wichtige Hinweise
This article is part of a supplement not sponsored by the industry.
Interessenkonflikt
Die Autoren erklären, dass sie sich bei der Erstellung des Beitrages von keinen wirtschaftlichen Interessen leiten ließen. Sie legen folgende potenzielle Interessenkonflikte offen: keine.
Der Verlag erklärt, dass die inhaltliche Qualität des Beitrags von zwei unabhängigen Gutachtern geprüft wurde. Werbung in dieser Zeitschriftenausgabe hat keinen Bezug zur CME-Fortbildung. Der Verlag garantiert, dass die CME-Fortbildung sowie die CME-Fragen frei sind von werblichen Aussagen und keinerlei Produktempfehlungen enthalten. Dies gilt insbesondere für Präparate, die zur Therapie des dargestellten Krankheitsbildes geeignet sind.
Zusammenfassung
Herr H., 24 Jahre alt, sucht seinen Hausarzt wegen Konzentrationsstörungen, Unruhe und Reizbarkeit auf. Er habe sich bereits in der Schule nur schwer konzentrieren können und sei immer schon unruhig gewesen. Ähnliche Symptome seien auch im Erwachsenenalter vorhanden: Er sei häufig vergesslich, verlege oft Gegenstände und sei ungeduldig. Seine Ausbildung habe er abgebrochen, seinen Arbeitsplatz öfter gewechselt. Auch privat habe er Schwierigkeiten: Aufgrund häufiger Stimmungsschwankungen und leichter Reizbarkeit stehe eine Trennung von seiner Partnerin bevor. Zudem trinke er immer wieder Alkohol (8–10 Getränke/Woche) und rauche 20 Zigaretten am Tag. Er habe über die Diagnose ADHS im Internet erfahren und vermute, dass diese auf ihn zutreffen könne. Er wünsche sich deshalb eine ausführliche diagnostische Abklärung. Zudem habe er gelesen, dass man seit Kurzem Cannabis zu medizinischen Zwecken verordnen könne. Er habe nun den Wunsch, ein cannabishaltiges Präparat zur Linderung seiner Symptome einzusetzen. Was sollten Sie ihm raten?