01.12.2017 | Research article | Ausgabe 1/2017 Open Access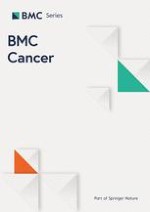 Strain elastography imaging for early detection and prediction of tumor response to concurrent chemo-radiotherapy in locally advanced cervical cancer: feasibility study
Zeitschrift:
Autoren:

Yan Xu, Lijing Zhu, Baorui Liu, Tong Ru, Huanhuan Wang, Jian He, Song Liu, Xiaofeng Yang, Zhengyang Zhou, Tian Liu
Wichtige Hinweise
Electronic supplementary material
The online version of this article (doi:
10.​1186/​s12885-017-3411-5
) contains supplementary material, which is available to authorized users.
Abbreviations
ADC
Apparent diffusion coefficient
ANOVA
Repeated measures analysis of variance
CCRT
Concurrent chemo-radiotherapy
DCE
Dynamic contrast-enhanced
EBRT
External beam radiotherapy
FDG-PET
Fluorodeoxyglucose-positron emission tomography
FIGO
International federation of gynecology and obstetrics
ICC
Intraclass correlation coefficients
ICR
Intracavitary brachytherapy
MRI
Magnetic resonance imaging
RECIST
Response Evaluation Criteria in Solid Tumors
Background
Methods
Patients and tumor characteristics
This study was approved by our institutional review board, and written informed consents were obtained from all patients. Between January 2015 and June 2016, we prospectively enrolled 47 consecutive patients with histologically confirmed cervical cancer who were scheduled to receive CCRT at our hospital. Each patient was staged according to the criteria of the International Federation of Gynecology and Obstetrics (FIGO). The inclusion criteria were as follows: (1) age over 21, (2) FIGO Stage IB to IV, and (3) no history of chemotherapy or radiotherapy.
CCRT treatment
All patients were treated with a combination of radiotherapy and chemotherapy. Radiotherapy consisted of external beam radiotherapy (EBRT) and intracavitary high-dose-rate brachytherapy (ICR). EBRT was delivered to the whole pelvis with a total dose of 50 Gy (a daily dose of 2 Gy and 5 times per week). EBRT was accompanied by concurrent chemotherapy, as follows: three-four cycles of every 2 weeks Nedaplatin (40-60 mg/m2) plus Paclitaxel (80 mg/m2) in 32 patients. ICR was initiated after an EBRT dose of 50 Gy. ICR was delivered twice a week with a dose of 5 Gy at point A (6 times, total dose 30Gy). The definition of point A follows the American Brachytherapy Society recommendation [
23
]. The entire CCRT for each patient was completed within 8 weeks.
Treatment response evaluation
The treatment response of the CCRT was determined by the shrinkage of the longest diameter of the cervical cancer with MRI prior to and right after therapy completion. All MRI was performed with a 3.0-T MRI scanner (Achieva 3.0 T, Philips Healthcare, Best, the Netherlands) with a 16-channel torso phased-array body coil at the time of diagnosis and immediately after therapy completion. Two radiologists independently evaluated longest tumor diameter based on T2-weighted images according to the corresponding diffusion-weighted as well as contrast enhanced images with the maximal magnification and compared them in consensus. The change of tumor size was calculated according to the following equation: change in tumor size % = (pre-longest diameter-post-longest diameter)/pre-longest diameter × 100%. The clinical responses were classified using the Response Evaluation Criteria in Solid Tumors (RECIST) 1.1 criteria [
24
] in the following 4 categories: complete response (CR), partial response (PR), stable disease (SD) and progressive disease (PD). CR is defined as no residual cancer, PR as at least a 30% decrease in the sum of diameters of the cancer, PD as at least 20% increase and SD as no sufficient shrinkage to qualify for PR or sufficient increase to qualify for PD.
Strain elastography imaging and analysis
All patients underwent ultrasound examinations at the following 4 time points: prior to CCRT, at week 1 and week 2 during CCRT, as well as within 1 week post CCRT. Ultrasound data were acquired using GE Voluson E8 ultrasound machine (GE Medical Systems, USA) with a 3D/4D endocavitary convex array transducer (GE RIC5–9, bandwidth 5–9 MHz). All the examinations were performed by a single ultrasonographer with seven-year experience, who was blinded to the treatment outcome and MRI results.
The ultrasound examination was performed with the patient in the lithotomy position (with an empty bladder). A disposable condom with coupling gel was used to cover the endocavitary probe which was gently inserted in the anterior vaginal fornix. All ultrasound data were acquired with the same settings: 5.0 cm depth, 1 focal zone, 7 Gy map, −15 gain, 121°angle, 3 persist, 2 enhance, 20 reject and 7 dynamic control. This setting was kept consistent throughout the study to ensure quantitative ultrasound comparison. Each patient first received a B-mode transvaginal ultrasound examination and the cervical tumoral tissue was identified as a mass with heterogeneous echogenicity and irregular borders with disruption of the cervical canal. The optimal gray-scale image of the sagittal view along the longest diameter of the cancer was obtained. B-mode scanning was followed by dual-mode scanning for real-time elastography with color-encoded superimposition of the information. Elastographic images were generated by soft and rhythmic compression of the cervix using the ultrasound transducer. On the monitor, the two panel image was displayed with the conventional B-mode image on the left and the elastography image on the right. The elasticity information is presented in color, with blue indicating stiffer tissue, red indicating softer tissue and green as intermediate stiffness.
All elastography images were analyzed by 2 experienced ultrasonographers (X.X., X.X.X.)with 12 and 15 years' experiences in gynecology. Strain ratio was employed to evaluate the strain difference between the cervical cancer and the normal parametrial tissue quantitatively. A press indicator on the left upper side of screen was used to evaluate the condition of compression in the region of interest (ROI) from the minimum to the maximum (level 1–6). Compression and relaxation waveforms were shown on the lower right side screen. While the compression indicator was green color at the value of 5 or 6 and the pressure waveform was simultaneously at the peak, the images of measurements and examination techniques were stored digitally. To compute the strain ratio, we first circled the normal parametrial tissue at the same depth of the cervical cancer as A,then manually contoured entire cervical cancer as B, and strain ratio was computed as A/B. We performed this three times for each patient and computed the mean value of strain ratio.
Statistical analysis
The clinical characteristics of the patients and tumors were expressed in mean and standard deviation (SD). Mann-Whitney test was used to compare the difference in FIGO stage, histological grade and lymphatic metastasis between the CR and PR groups. The comparison of mean age and the maximum tumor diameter between two groups were performed using Student's unpaired t-test. Repeated measures analysis of variance (ANOVA) and Student's unpaired t-test were constructed to the multiple comparisons in strain ratios for the CR group and PR group at each time point. A two-sided
p
< 0.05 was considered to be statistically significant. The inter-observer and intra-observer variability of measurements were assessed using intra-class correlation coefficients (ICCs) with a 95% confidence internal (CI). Statistical analysis was performed using SPSS software version 19.0 (SPSS Inc., Chicago, IL,USA).
Results
Patient and tumor characteristics
Of the 47 enrolled patients, 36 patients were included in this analysis. The remaining 11 patients were excluded from the study due to incomplete follow-up imaging study or clinical evaluations. The tumor characteristics are summarized in Table
1
. From the MRI evaluations, 25 (69.4%) patients were classified as CR, 11 (30.6%) patients as PR, no patients as SD or PD. The age range was 34–77 for the CR group and 31–67 for the PR group (
p
= 0.131). Prior to treatment, the mean maximum tumor length was 35 ± 15 mm for the CR groupand 42 ± 14 mm for the PR group (
p
= 0.193). There was no significant difference between the CR and PR groups in FIGO stage (
p
= 0.453), histological grade (
p
= 0.359) or lymphatic metastasis (
p
= 0.621).
Table 1
Tumor Characteristics
Characteristics

No. of Patients (

n

= 36)

 IB

2 (5.6%)

 IIA

4 (11.1%)

 IIB

18 (50.0%)

 IIIA

3 (8.3%)

 IIIB

6 (16.7%)

 IV

3 (8.3%)

 High

6 (16.7%)

 Intermediate

26 (72.2%)

 Poor

4 (11.1%)

 Squamous cell carcinoma

36 (100%)

 Yes

24 (66.7%)

 No

12 (33.3%)
Ultrasound elastography assessment of treatment response
Figure
1
showed the B-mode and elastography images of a representative complete responder case at 4 time points and corresponding axial T2-weighted images prior to and right after therapy completion, while Fig.
2
illustrated a partial responder case. Table
2
summarizes the mean strain ratios of the tumors in the complete and partial responders at each time point, and Additional file
1
(Figures S1 and S2) displayed the mean strain ratios of each patient in CR and PR groups. Before starting treatment, CR group and PR group demonstrated similar tumor stiffness, with average strain ratios of 3.92 ± 0.98 and 4.14 ± 0.77, respectively. The strain ratios were significantly different between time points in the CR group (
F
= 87.004,
p
< 0.001) and PR group (
F
= 38.317,
p
< 0.001), and the difference between CR and PR groups was found to be significant (
F
= 7.203,
p
= 0.011). Strain ratios between CR group and PR group were significant from 1 week after treatment initiation to therapy completion (all
p
< 0.05). Compared to strain ratios at pre-therapy (baseline), Fig.
3
exhibited that significant decreases in CR group were seen from 1 week after treatment initiation to therapy completion (all
p
< 0.001), however, PR group showed significant differences from 2 weeks to therapy completion (
p
= 0.001,
p
< 0.001, respectively), but no statistical significance at 1 week (
p
= 0.084).
Table 2
The mean strain ratios of the tumors in the complete and partial responders at each time point
Group

Time points

Sum

Pre Tx

Post T1

Post T2

Post T3

CR

3.92 ± 0.98

3.07 ± 0.77

2.59 ± 0.64

1.89 ± 0.34

2.87 ± 1.03

87.004

< 0.001

PR

4.14 ± 0.77

3.74 ± 0.63

3.13 ± 0.47

2.74 ± 0.56

3.42 ± 0.82

38.317

< 0.001

sum

3.99 ± 0.91

3.27 ± 0.78

2.75 ± 0.64

2.15 ± 0.57

3.04 ± 1.00 a

91.723 a

< 0.001 a

t

0.664

2. 515

2.503

5.583

7.203 a

(

F

= 2.922,

P

= 0.058)

#

P

0.511

0.017

0.017

< 0.001

0.011 a
×
×
×
The ICC between two observers was 0.986 (95% CI 0.947–0.996;
p
< 0.001), and the intra-observer variability was 0.991 (95% CI 0.964–0.998;
p
< 0.001).
Discussion
Several limitations exist in this study. First, this study was performed with small sample size and a short follow-up period. Second, our study observed morphologic changes before and after treatment based on imaging by MRI as a reference of therapeutic response and lacked pathologic results and clinical outcome, such as progression-free survival and overall survival. Third, we did not investigate the effect of CCRT on the stiffness of normal parametrial tissue in the current study. Fourth, only cervical squamous carcinoma was included in this study, so we are uncertain whether other types of cervical cancers will show similar trends in the treatment response monitoring by strain elastography.
Conclusions
This study demonstrates the feasibility of using strain elastography imaging to monitor the treatment response of cervical cancer during CCRT. Furthermore, the significant decrease in strain ratios after 1 week of treatment for the CR group indicates its potential role as an early predictor of treatment response. These findings warrant future clinical studies to refine the strain elastography technique with the ultimate goal to provide reliable imaging biomarkers to adjust ineffective therapy promptly and optimize personalized therapy.
Acknowledgments
Not applicable.
Funding
This work was supported by National Natural Science Foundation of China (81371516, 81501441, 81671751), Foundation of National Health and Family Planning Commission of China (W201306), Social Development Foundation of Jiangsu Province (BE2015605), Natural Science Foundation of Jiangsu Province (the Youth Foundation, BK20150109 and BK20150102). The funding sources had no role in the study design, data collection, data analysis, or interpretation of the findings.
Availability of data and materials
The analyzed data sets generated during the study are available from the corresponding author on reasonable request.
Authors' contributions
YX and LJZ made substantial contributions to data analysis and drafting the manuscript; BRL provided all oncological support; HHW and SL had significant roles in the acquisition data and interpretation of data; TR and JH carried out the quality control of ultrasound & MR examinations and data analysis; XFY and ZYZ made substantial contributions to conception and design. TL had significant roles in revising the manuscript. All authors have read and approved the final manuscript.
Competing interests
The authors declare that they have no competing interests.
Consent for publication
Written informed consent for publication of their clinical details and any accompanying images was obtained from all the patients.
Ethics approval and consent to participate
This study was approved by the institutional review board of Nanjing Drum Tower hospital, and all the patients offered the written informed consents.
Publisher's Note
Springer Nature remains neutral with regard to jurisdictional claims in published maps and institutional affiliations.
Open Access
This article is distributed under the terms of the Creative Commons Attribution 4.0 International License (
http://​creativecommons.​org/​licenses/​by/​4.​0/​
), which permits unrestricted use, distribution, and reproduction in any medium, provided you give appropriate credit to the original author(s) and the source, provide a link to the Creative Commons license, and indicate if changes were made. The Creative Commons Public Domain Dedication waiver (
http://​creativecommons.​org/​publicdomain/​zero/​1.​0/​
) applies to the data made available in this article, unless otherwise stated.