05.01.2017 | Surgical Symposium Contribution | Ausgabe 5/2017 Open Access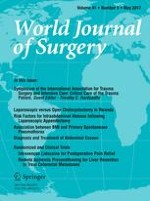 Strategies for Intravenous Fluid Resuscitation in Trauma Patients
Zeitschrift:
Autoren:

Robert Wise, Michael Faurie, Manu L. N. G. Malbrain, Eric Hodgson
Initial resuscitation fluid management
Post-resuscitation fluid management
Background
These are broad guidelines, and exceptions do exist. Urine output has not been included in our recommendations due to the many influencing factors, although it may be one of the only parameters to measure, particularly in resource-limited settings. The renal response to hypovolemia is multifactorial and depends on a combination of renal blood flow, renal perfusion pressure and plasma oncotic pressure. The type of resuscitation fluid is important as it may influence oncotic pressure. In addition, the neurohormonal control of renal function may cloud the clinical picture and appropriate retention of water may be interpreted as renal dysfunction when this may be an appropriate physiological fluid conservation mechanism. As outlined by Peeters et al., previous studies have not found a correlation between urine output and invasively derived physiological variables. Also, several studies have pointed to the inaccuracy of using urine output as a resuscitation target and its limitation in identifying fluid responders. This situation is complicated further in trauma patients in the presence of increased intra-abdominal pressure. The limitations of using urine output should be understood by attending physicians.
Maintenance fluid
In providing maintenance fluids, care should be taken to avoid causing tissue edema. This requires limitation of crystalloid administration, which can only really be achieved in the post-resuscitation period. Crystalloid fluid administration is not without hazards. Excessive crystalloid administration is associated with edema of skin, abdominal organs (leading to abdominal compartment syndrome), kidneys (leading to renal compartment syndrome, contributing to acute renal failure) and heart (leading to myocardial dysfunction) [
44
]. The ideal concept would be to use a strategy where the fluid stays intravascular and expands this compartment for longer. However, the design of the recent large studies involving HES showed that ongoing use of these fluids in critically ill patients, beyond initial resuscitation (even in the trauma subgroup analysis), was without benefit and may increase the need for renal replacement therapy [
47
].
During the post-resuscitation phase, crystalloids are not only required for fluid supplementation, but also as vehicles for administration of medication, including antibiotics, sedation and inotropes/vasopressors. The fluid required for the administration of these solutions together with those required for nutrition should as a guide not exceed 2 ml/kg/h. 0.9% "normal" saline has often been the fluid of choice for this purpose; however, concerns about both the sodium and chloride load may favor other "balanced" fluids [
13
,
50
,
51
]. This fluid can again be substituted for the one designed specifically for maintenance of daily fluid and electrolyte requirements once certainty regarding fluid requirements and responsiveness has been reached. During this period, the solutions infused as medications may also be made more concentrated to limit volume requirements.
It must be remembered that intravenous fluids are drugs providing both electrolytes and water. While calculating these requirements, the patient's medication and feed also need to be incorporated to avoid excessive volumes of each.
Assessing volume status
Fluid responsiveness
Only half of the ICU patients with hemodynamic instability are able to "respond" to fluid loading, which is explained by the shape of the Frank–Starling curve [
52
]. On the initial and steep limb of the curve, the stroke volume is highly dependent on preload: Administering fluid will actually result in a significant increase in stroke volume. In contrast, if the heart is working on the terminal and flat portion of the Frank–Starling curve, it cannot utilize any preload reserve and fluid administration will not significantly increase stroke volume. Accordingly, predictors of volume responsiveness are mandatory to distinguish between patients who can benefit from fluid and those in whom fluid is useless and hence deleterious.
1.
Static markers of cardiac preload
Considering the Frank–Starling relationship, the response to volume infusion is more likely to occur when the ventricular preload is low, rather than when it is high. Unfortunately, none of the measures of cardiac preload enables to accurately predict fluid responsiveness: Neither the central venous pressure (CVP), the pulmonary artery occlusion pressure (PAOP), nor the left ventricular end-diastolic area (LVEDA) can discriminate between responders and non-responders to fluid therapy [
24
,
53
,
54
]. Only the right ventricular and the global end-diastolic volume have been proven to be of some benefit compared to barometric preload indicators especially in patients with increased intra-thoracic or intra-abdominal pressures [
23
,
55
].
2.
Dynamic markers of volume responsiveness
The alternative method for predicting volume responsiveness is simply to induce a change in cardiac preload and to observe the resulting effects on stroke volume or cardiac output or any available surrogate, i.e., to perform a "functional assessment" of the cardiac function [
24
]. This is achieved with intravenous fluid boluses [
56
]. This method can be criticized because repeated infusions of such amounts could eventually exert adverse effects if there is no preload reserve, especially if pulmonary permeability was increased.
The respiratory variation of hemodynamic signals
Observing the respiratory variation of hemodynamic signals has emerged as an alternative for assessing volume responsiveness without administering fluid. The concept is based on the assumption that the cyclic changes in right ventricular preload induced by mechanical ventilation should result in greater cyclic changes in left ventricular stroke volume when both ventricles operate on the steep rather than on the flat portion of the Frank–Starling curve, i.e., in case of biventricular preload preserve.
Numerous studies have consistently demonstrated that the magnitude of respiratory variation of surrogates of stroke volume allows predicting fluid responsiveness with accuracy [
24
]. Pulse pressure variation (PPV) is the most popular index, since it needs only an arterial catheter to be obtained and numerous bedside monitors calculate and display its value in real time. Reliability of PPV to predict fluid responsiveness has been demonstrated in ICU patients when it is calculated from a simple arterial catheter [
4
] or automatically calculated by simple bedside monitors such as the IntelliVue (Philips, USA) [
5
], the PiCCO (PULSION Medical Systems SE, Germany) [
6
] and the LiDCOplus (LiDCO Group PLC, UK) [
7
] monitors [
57
–
61
]. PPV can also be automatically obtained with the LiDCOrapid (LiDCO Group PLC, UK), Mostcare (Vytech, Italy) and Pulsioflex (MAQUET, Germany) uncalibrated monitors [
62
]. Noninvasive finger pressure monitors such as the CNAP (CNSystems Medizintechnik AG, Austria) or ClearSight (Edwards Lifesciences Corporation, USA) also allow calculation of noninvasive PPV [
63
,
64
]. It must be noted that this modality is difficult to use in several cases of trauma resuscitation as it requires controlled ventilation (i.e., no spontaneous ventilatory efforts), regular sinus rhythm and tidal volumes of >7 ml/kg.
Other markers
The following other surrogates of stroke volume respiratory variation can be used at the bedside:
The passive leg raise (PLR) test carries an excellent ability to serve as a test of preload responsiveness, demonstrated in patients with acute circulatory failure [

71

,

72

]. A 10–12% increase in cardiac output or stroke volume during PLR enables prediction of fluid responsiveness, even patients with cardiac arrhythmias and/or spontaneous ventilator triggering [

73

]. However, in conditions of increased IAP and pain, the PLR may result in a false negative [

55

,

74

].

Ultrasonography: This bedside modality has advantages of repeatability, being noninvasive, with the ability to assess dynamic changes in the inferior vena cava (IVC) diameter, left ventricular outflow tract stroke volume variation, and estimate cardiac ejection fraction [

76

]. This provides the ability for real-time guidance of fluid resuscitation [

77

]. The most widely used method for assessing fluid responsiveness using IVC parameters is the caval index [

78

]. This measurement is most useful at extremes of volume status and is influenced by increases in ventilation parameters (tidal volume and positive end-expiratory pressure) and intra-abdominal pressure. As a result, despite positive findings in early studies, research has demonstrated a limited ability to detect those patients that would respond to further fluid resuscitation due to changes in these ventilatory parameters, and other patient factors such as obesity [

79

,

80

]. Other measurements using ultrasonography are possible such as SVV using pulse-wave Doppler, and aortic blood flow velocity using trans-esophageal echocardiography, but require more experience and may prove challenging in the emergency setting [

81

–

83

]. The combination of using ultrasonography to measure aortic velocity–time integral and combining this with a PLR test may be the best technique in skilled hands [

84

,

85

].
Recommendations for current best practices:
1.
If ultrasonography is available, then we advise using dynamic changes in IVC together with other clinical parameters. Preferably, if the skills are available, combining aortic velocity–time integral with dynamic changes from a PLR test should be performed.
2.
In the absence of ultrasonography, dynamic markers of volume resuscitation should be attempted such as a PLR test, although this may have limited utility in the emergency setting due to patient injuries and pain.
3.
If it is unable to utilize ultrasonography or PLR testing, other dynamic markers of fluid responsiveness can be attempted although these may be impractical in the emergency setting. Repeated "mini-boluses" of intravenous fluid (100–250 ml) can be used, provided that vigilance regarding excessive or inappropriate clear fluid administration is maintained.
Special groups
Conclusion
Fluids are drugs and should be managed as such. Appropriate early fluid resuscitation in trauma patients is a challenging task. Care should be taken in selecting both the type and volume to promote appropriate perfusion and oxygen delivery, avoiding the adverse effects seen when giving too little or too much. Ongoing fluid strategies following resuscitation should incorporate dynamic markers of volume status whenever possible. All aspects of fluid administration should be incorporated into daily fluid plans, including feeding and infusions of medications. A sound knowledge of the differences and physiological consequences of specific trauma groups is essential for all practitioners delivering care for trauma patients [
7
].
Acknowledgements
The costs covering the open access publication (USD3000) of this review article were covered by an unrestricted educational grant from the International Fluid Academy (IFA). The IFA is integrated within the not-for-profit charitable organization iMERiT (International Medical Education and Research Initiative) under Belgian Law. The IFA website (
http://​www.​fluidacademy.​org
) is now an official SMACC (Social Media and Critical Care) affiliated site and its content is based on the philosophy of FOAM (Free Open Access Medical Education - #FOAMed).
Compliance with ethical standards
Competing interest
Robert Wise and Michael Faurie declare that they have no competing interests. Manu LNG Malbrain is member of the executive committee of the International Fluid Academy (IFA). Eric Hodgson is a paid speaker and advisory board member for Fresenius-Kabi.
Open Access
This article is distributed under the terms of the Creative Commons Attribution 4.0 International License (
http://​creativecommons.​org/​licenses/​by/​4.​0/​
), which permits unrestricted use, distribution, and reproduction in any medium, provided you give appropriate credit to the original author(s) and the source, provide a link to the Creative Commons license, and indicate if changes were made.