01.12.2019 | Review | Ausgabe 1/2019 Open Access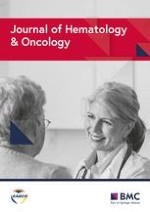 Strategies of adoptive T -cell transfer to treat refractory viral infections post allogeneic stem cell transplantation
Zeitschrift:
Autoren:

Theresa Kaeuferle, Ramona Krauss, Franziska Blaeschke, Semjon Willier, Tobias Feuchtinger
Abbreviations
DLI
Donor lymphocyte infusion
GvHD
Graft-versus-host disease
HSCT
Hematopoietic stem cell transplantation
LCLs
Autologous EBV-transformed B cell lines
PBMC
Peripheral-blood mononuclear cells
PTLD
Post-transplant lymphoproliferative disease
TRACE
Multivirus-specific T cell transfer post SCT vs AdV, CMV, and EBV infections
Introduction
Allogeneic hematopoietic stem cell transplantation (HSCT) cures a variety of diseases, but it exposes patients to a transient severe immune deficiency. Since immune reconstitution after allogeneic HSCT can take 3 to 6 months [
1
–
3
], infections are a major cause of morbidity and mortality during this phase of immune deficiency. Taken together, infections cause 11% of all deaths after HSCT occurring with a median of 3 months after transplantation. About one third of infection-related deaths are caused by viruses, mainly human cytomegalovirus (CMV), Epstein-Barr virus (EBV), or human adenovirus (AdV) [
4
].
CMV is rarely associated with significant symptoms in healthy adults but causes severe complications during gestation and in immunocompromised patients [
5
]. EBV causes infectious mononucleosis but usually only mild, self-limiting disease followed by a lifelong latency of the virus in B cells. After HSCT, the latent virus can be reactivated and manifests as post-transplant lymphoproliferative disease (PTLD) [
6
,
7
]. AdV is a widely spread virus, and the vast majority of pre-school children have had at least several respiratory or gastro-intestinal infections with AdV. AdV infections after HSCT show a particularly high incidence in pediatric patients. Local reactivations are often self-limiting, whereas systemic infections in the presence of a risk factor causing reduced T cell protection are associated with high morbidity and mortality [
8
].
Conventional pharmacologic agents against AdV and EBV have limited efficacy and relevant toxicity [
9
,
10
]. Pharmacological treatment of CMV shows better response rates, but toxicity and reactivation after treatment stop are frequent [
11
]. A sustained control of refractory viral infections will depend ultimately on the restoration of adequate antiviral immunity. Adoptive transfer of virus-specific T cells is an attractive approach to improve immune protection [
7
] (Fig.
1
). This protection has been best described by the detection of specific T -cell responses in peripheral blood. For other predictive biomarkers, only few data exist. First, immunosuppression is likely to suppress antiviral T -cell responses. Under high doses of steroids, a success of adoptive T -cell therapy has not been possible. In theory, calcineurin inhibitors suppress T -cell responses, but systematic data are missing. Second, classical transplant parameters (donor type, human leukocyte antigen (HLA) match, underlying disease) have not been associated with differences in outcome of specific T -cell transfer. T cells from the initial HSCT-donor have been more successful compared to third-party donors [
12
]. Last but not the least, routine use of adoptive T -cell therapy requires T cells from seropositive donors. Therefore, we recommend testing of the donor for specific T -cell responses before adoptive T cell transfer.
×
Current development of chimeric antigen receptor (CAR) T cells for the treatment of leukemia and lymphoma has raised the question of a CAR T cell therapy against persistent viral infections
post
HSCT [
13
]. However, neither a combination of virus-specific T -cell receptor (TCR) with an anti-tumor CAR [
14
] nor an anti-viral CAR alone has been proven superior to an endogenous TCR.
Development of selection techniques of virus-specific T cells
Clinical evidence
Conclusion and future perspective
Viral infections refractory to antiviral chemotherapy are a life-threatening condition in immunocompromised hosts. Clinical trials using CMV-, EBV-, and AdV-specific T cells for adoptive T -cell transfer have shown that T -cell therapy is an attractive approach to restore protective antiviral T -cell immunity. In almost 30 years of adoptive T -cell transfer, 74% of 246 evaluable, published patients responded to the treatment. In total, 85% responded to CMV-specific T cell transfer, 62% to EBV-specific T cells, and 74% to AdV-specific T cell transfer.
Dosing of virus-specific T cells depends on the risk of GvHD, method of generation, and the grade of HLA match/mismatch. For ex vivo-generated T cells, we currently recommend an upper dose limit of 2.5 × 104/kg recipient body weight CD3+ cells in HLA-mismatched/haploidentical donors and 1 × 105/kg in HLA-matched donors. A recommendation of a lower threshold does not exist at the moment. Lowest successful doses have been published as low as a few hundred cells. Protocols with longer in vitro culture steps have used higher doses.
Developing techniques for manufacturing virus-specific T -cell products has overcome initial difficulties of adoptive T -cell transfer. Nevertheless, the regulatory hurdles, logistics, and time-consuming selection techniques for producing virus-specific T -cell grafts have limited widespread application of this therapy. Off-the-shelf production of a T -cell product is promising, but clinical efficacy has not yet been fully confirmed in placebo-controlled studies. Third-party T -cells showed clinical benefits [
55
], but clarification of persistence in vivo remains to be investigated. A current multinational, placebo-controlled, phase III clinical trial (TRACE) aims to generate clinical evidence data to allow the inclusion of adoptive transfer of virus-specific T cells into evidence-based treatment guidelines and make it available as standard treatment for refractory viral infections post HSCT in the future.
Acknowledgements
The authors thank all patients and their parents for participating in the studies.
Funding
This work was supported by the European Commission Horizon2020 and the German Centre for Infection Research (DZIF).
Availability of data and materials
Not applicable. All data included in this review are obtained from the publications listed in the references.
Ethics approval and consent to participate
Not applicable.
Consent for publication
Not applicable. Authors of original publications cited in this review are responsible for patients' consent.
Competing interests
The authors declare that they have no competing interests.
Publisher's Note
Springer Nature remains neutral with regard to jurisdictional claims in published maps and institutional affiliations.
Open Access
This article is distributed under the terms of the Creative Commons Attribution 4.0 International License (
http://​creativecommons.​org/​licenses/​by/​4.​0/​
), which permits unrestricted use, distribution, and reproduction in any medium, provided you give appropriate credit to the original author(s) and the source, provide a link to the Creative Commons license, and indicate if changes were made. The Creative Commons Public Domain Dedication waiver (
http://​creativecommons.​org/​publicdomain/​zero/​1.​0/​
) applies to the data made available in this article, unless otherwise stated.