01.12.2018 | Debate | Ausgabe 1/2018 Open Access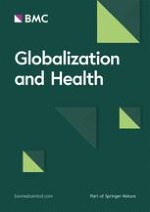 Strategies to integrate community-based traditional and complementary healthcare systems into mainstream HIV prevention programs in resource-limited settings
Zeitschrift:
Autoren:

Subash Thapa, Arja R. Aro
Abbreviations
HIV
Human Immunodeficiency Virus
WHO
World Health Organization
Background
HIV testing, the disclosure of HIV positive status and antiretroviral treatment (ART) uptake are important strategies for the HIV prevention. However, more than 40% of population at-risk of HIV worldwide do not have an access to HIV testing services and more than 50% of the people living with HIV do not receive ART [
1
]. Global spending for HIV prevention has been decreasing over the years and several low-income countries are increasingly facing the challenge to minimize the funding gap to continue providing HIV prevention services [
2
,
3
]. Even, to maintain the current progress in HIV, it is estimated that low-income countries need to significantly increase their investment from US$20 billion to more than US$35 billion by 2031 [
4
].
In Nepal, HIV is a concentrated epidemic among at-risk population groups. The epidemic is mostly driven by heterosexual transmission, which accounts for more than 85% of total new HIV infections [
5
]. Among the total population infected with HIV, 40% are the general male population and 35% are the general female population. The other population groups include injecting drug users (8%), transgender people (2%), their clients (5%), men having sex with men (9%), and female sex workers (1%) [
5
]. The Nepal Demographic Health Survey of 2016 has reported that 89% of men and 80% of women have never been tested for HIV. And, only 12% of men and 19% of women have knowledge about the place to access ART [
6
]. Due to the reduction in funding over the years, the Nepalese health system is encountering problems in continuing HIV prevention services, especially in the rural areas. As a result, the health system is less likely to meet the demand of the beneficiaries' related to HIV prevention due to the lack of materials and supplies at the local level. Thus, HIV researchers and program managers meanwhile are more interested in knowing the impact of funding problems, especially in relation to HIV prevention.
Funding gaps and resource limitations may threaten to derail the HIV response. For instance, Nkonki and colleagues have noted that the prevention of mother-to-child transmission intervention in South Africa did not significantly increase HIV testing and treatment uptake because of non-availability of health workers and lack of HIV test kits [
7
]. Unlike HIV, the uncontrolled burden of other infectious diseases, such as plague and tuberculosis, had been experienced in the history of medicine when public health initiatives were let down because of resource-related reasons. In Nepal, poor political will and limited domestic funding may favor interventions that do not specifically aim to reach the vulnerable populations. As a result, people may have limited access to HIV services or they may face delays in the uptake of health services, including HIV testing and treatment. The absence of health service or limited access to it, especially in the rural areas, may enable people to continue engaging in traditional and complementary healthcare practices [
8
]. And, if the interventions to integrate and mobilize the traditional and complementary healthcare systems into the mainstream health system are not in place, this can exacerbate HIV stigma, non-disclosure of HIV status, and delays in healthcare access, which may eventually lead to higher transmission and mortality rates and, particularly, the poorest and most vulnerable will be affected the most [
9
].
The current HIV prevention programs or interventions should adopt or incorporate approaches to continue increasing people's access to HIV testing and ART services. We argue that a strategy to collaborate with or mobilize the community-based traditional healthcare systems and networks in the mainstream health systems could be crucial to ensure that there is equitable access to effective HIV prevention messages, HIV testing, and treatment services for all those who need it [
10
]. Therefore, in this paper, we illuminate the reasons why it is important to mobilize community-based traditional and complementary healthcare systems into mainstream HIV programs to ensure access to HIV prevention messages, HIV testing and treatment, and contain the HIV epidemic in the rural communities with limited cost and resources in Nepal.
Community-based traditional and complementary healthcare in HIV prevention
Traditional medicine is the total sum of the knowledge, skills, and practices based on the theories, beliefs, and experiences indigenous to different cultures, whether explicable or not, used in the maintenance of health as well as in the prevention, diagnosis, improvement or treatment of physical and mental illness [
11
]. The term 'complementary medicine', which is also used interchangeably with traditional medicine, refers to a broad set of healthcare practices that are not fully integrated into the dominant healthcare system. The World Health Organization (WHO) estimates that in a low-income country like-Nepal, 80% of the population may engage in a group of traditional and complementary healthcare practices, such as Faith healing, Energy Healing, Yoga, Herbal medicine, Ayurveda, and Homeopathy, in combination with or in place of the mainstream HIV programs [
11
]. The WHO emphasizes to integrate the community-based traditional and complementary healthcare systems within the mainstream healthcare system to increase people's access to healthcare.
Nepal has a long history of practicing traditional and complementary medicine, which has been passed on from generation to generation through community-based belief systems. Recognizing this fact, the Constitution of Nepal along with the National Health Policy-2014 call for the promotion of traditional Ayurveda medicine, naturopathy, homeopathy and other complementary healthcare systems in the country [
5
]. The Ayurveda and Alternative Medicine Unit are institutionalized under the Ministry of Health and Population, which formulates policies and guidelines, and manages Ayurveda and other traditional healthcare systems. There are altogether two Ayurveda hospitals, 14 zonal Ayurveda dispensaries, 61 district Ayurveda health centers and 305 Ayurveda dispensaries, and in average, 1.2 million client consultations for Ayurveda treatment for general health problems in these institutions last year. [
5
] It is believed that the clear majority of the population, including people living with HIV or the vulnerable population groups, seek help from traditional and complementary medicine in the rural areas of Nepal [
9
].
Despite this high patronage, the mainstream health system often ignores community-based traditional healthcare beliefs and practices, which has been evident as one of the reasons for low uptake of HIV testing and ART services in the rural areas of several low-income countries, including Nepal [
9
,
12
,
13
]. We may need to look back and realize that even in the period of huge investments on HIV prevention, the traditional and complementary medicine systems have been practiced by a huge majority of population groups, and today and in the future, we can assume that this will definitely continue. We believe, in terms of designing and developing cost-effective approaches for HIV prevention, the traditional and complementary healthcare systems and the mainstream healthcare system are not completely incompatible and can be complementary.
Strategies to integrate traditional and complementary health care into the mainstream HIV prevention programs
Conclusion
There needs to be explicit recognition of, and further strategies to collaborate with the traditional and complementary healthcare systems and practitioners, and mobilize them in the mainstream HIV programs to increase people's access to prevention messages, HIV testing and treatment services. Two of the strategies for collaboration and partnership are that: general HIV prevention messages are to be delivered by the traditional and complementary healthcare practitioners in their routine practices, and some of the practitioners can be trained to build their capacity to work as counselors or educators in the field of HIV prevention in the community. Additionally, development and reformation of the traditional and complementary healthcare systems and their integration with mainstream healthcare system should be well informed through qualitative and mixed-methods research in Nepal.
Competing interest
The authors declare that they have no competing interests.
Ethics approval and consent to participate
Not applicable.
Consent for publication
Not applicable.
Publisher's Note
Springer Nature remains neutral with regard to jurisdictional claims in published maps and institutional affiliations.
Open Access
This article is distributed under the terms of the Creative Commons Attribution 4.0 International License (
http://​creativecommons.​org/​licenses/​by/​4.​0/​
), which permits unrestricted use, distribution, and reproduction in any medium, provided you give appropriate credit to the original author(s) and the source, provide a link to the Creative Commons license, and indicate if changes were made. The Creative Commons Public Domain Dedication waiver (
http://​creativecommons.​org/​publicdomain/​zero/​1.​0/​
) applies to the data made available in this article, unless otherwise stated.